Bite Me!
(2004)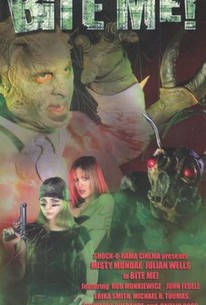 AUDIENCE SCORE
Critic Consensus: No consensus yet.
Movie Info
A crate of biologically engineered marijuana spells trouble for a run-down strip club when super-sized roaches take over in director Brett Piper's tale of indestructible insects. When a drug deal gone south finds the infected ganja landing in a strip club that's about to be demolished, an outlaw DEA agent arrives to wipe out the shipment and the mutant creatures that have been feeding on the tainted herb. Though club owner Ralph calls in an exterminator to take care of the infestation, the chemical-toting killer is no match for the carnivorous insects and soon the whole club is under attack by a swarm of bloodthirsty bugs.
Rating:
R
Genre:
Directed By:
In Theaters:
On DVD:
Runtime:
Critic Reviews for Bite Me!
There are no critic reviews yet for Bite Me!. Keep checking Rotten Tomatoes for updates!
Audience Reviews for Bite Me!
½
Trashy Theater Time: D-grade no-budget horror-comedy with nudie-film star Misty Mundae as stripper-turned-commando Crystal. Sound fun? You betcha! A jokey script helps turn a routine mutant-bugs-on-the-loose scenario into a silly romp with a host of goofy characters: Ralph the super-slimy club owner, strippers Trix the nearsighted & unfazably doped-up Amber, Buzz the humane exterminator, a crazy ("Don't call me crazy!!") rogue DEA agent, and Teresa the shady businesswoman with a hammy Noo Yawk accent. Mundae & Julian Wells are perfectly aware of what kinds of dumb movies these are, and their willingness to play along like they're in on the joke makes all the difference between a waste of time and a fun waste of time.
Doctor Strangeblog
Super Reviewer
Bite Me is yet another Brett Piper (Drainiac, Screaming Dead, etc) outing that incorporates a bevy of stop-motion monster effects and boobies. The story focuses on a crate of bio-engineered marijuana that makes its way into the hands of a sleazy strip-club owner (the late Michael R. Thomas) whose club is on the verge of going under and being acquired by competition Julian Wells (who begins the first half of the movie looking for off-putting with her attire and Jersey accent, but makes up for it in the second half when she unleashes that banging body of hers in a sex-crazed frenzy). Anyways, the strippers work endlessly and are made up of nice girls Misty Mundae and Erika Smith, along with stoner Caitlin Ross, and bartender Sylvianne Chebance, who all become under attack by enlarged, vicious stop-motion spiders that come out of the marijuana crates. With the help of a dim-witted exterminator (Piper movie regular Rob Monkiewicz), the gang makes an attempt to take on the nasty bugs, as well as a renegade, lunatic DEA agent, and eventually, giant bug/DEA agent hybrid bugs in this rather nutty film. This movie clearly doesn't take itself seriously and just wants to have fun, and this is CLEARLY what the viewer should be doing as well. A fun mix of silliness and fun 80's style effects that only Brett Piper can deliver, whom I've always been entertained by. Good flick.
Jason Duron
½
i want to do a simple review for this one so what do i say? its sooo fucking stupid its awsome i love misty mundae!!!!!!
dylan steffan
Bite Me! Quotes
There are no approved quotes yet for this movie.