Die Bitteren Tršnen der Petra von Kant (The Bitter Tears of Petra Von Kant)
(1972)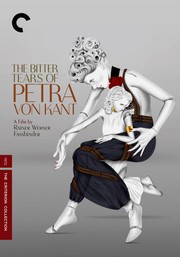 Die Bitteren Tršnen der Petra von Kant (The Bitter Tears of Petra Von Kant) Trailers & Photos
Movie Info
This tale of intermingled love and hate is directed by Rainer Werner Fassbinder, and is the 13th of the 33 films he made in his short life. It explores the universal dynamics present in close human relationships, even lesbian ones. Petra Von Kant (Margit Carstensen) is a fashion designer. Some time ago, she divorced the husband she no longer loved. Until recently, she has been in a fairly satisfactory S & M relationship with her assistant. When she develops an obsession with her fashion model, however, things become far more complicated. ~ Clarke Fountain, Rovi
more
News & Interviews for Die Bitteren Tršnen der Petra von Kant (The Bitter Tears of Petra Von Kant)
Critic Reviews for Die Bitteren Tršnen der Petra von Kant (The Bitter Tears of Petra Von Kant)
Audience Reviews for Die Bitteren Tršnen der Petra von Kant (The Bitter Tears of Petra Von Kant)
It's incredible how Fassbinder was able to expertly use one single set and frame it in all ways possible to please his deliciously black humour in order to tell this masochistic story of an obsessive fashion designer and her women.
"The Bitter Tears of Petra Von Kant" may be dull, but it's a tribute to director R.W. Fassbinder's mise en scene that it's not even duller. With just six actresses exchanging stilted dialogue on a single set for over two hours, this is not a movie for popcorn-munchers.

The opening credits are layered over a shot of two cats dawdling on a dim stairway. From there, the camera rolls into a bedroom. And stays there. Until the film is over. Luckily, the room has quite a few arresting features, including a 17th-century mural reproduced on the wall, an eerie assortment of nude mannequins and white, fluffy carpet that looks like dog hair. And then there are the costumes. The title character shifts through several wild dresses, robes and wigs (one revealing, pearls-draped outfit almost defies description), and the supporting players are decked in purple, metallic gold, lemon-yellow and more. Fur and feather trim: everywhere.

Petra Von Kant (Margit Carstensen) is a successful fashion designer and the soggy epitome of a mean drunk. She lives with another designer named Marlene (Irm Hermann). Marlene waits on Petra like a servant, never says a word (her eyes speak volumes) and seems to be on the losing end of a dominant/submissive relationship gone stale. Petra's cousin, mother and daughter serve as secondary foils, but her most crucial nemesis is Karin (the effortlessly sexy Hanna Schygulla), a young, fickle model who becomes Petra's lover during the course of the film. Clearly, Marlene is not pleased.

The story does not advance much further than this -- the remaining plot developments barely require two sentences to describe. And in case the lesbian theme excites you, be forewarned that your fantasies will go ungratified. Instead, the action mostly dwells on the self-loathing Petra firing abuse at her visitors and phone-callers. Carstensen carries the film on her bony shoulders and does give a remarkable performance, but the tensions between her and her coterie won't be enough to keep most viewers engaged.
Die Bitteren Tršnen der Petra von Kant (The Bitter Tears of Petra Von Kant) Quotes
Discussion Forum
Discuss Die Bitteren Tršnen der Petra von Kant (The Bitter Tears of Petra Von Kant) on our Movie forum!
News & Features