Black Devil Doll
(2007)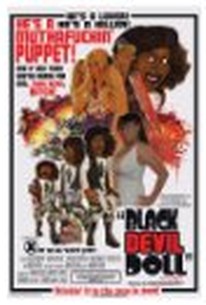 AUDIENCE SCORE
Critic Consensus: No consensus yet.
Movie Info
This blaxploitation extravaganza peddles wall-to-wall grindhouse glee: there's nudity, gore, a Ouija board gone awry, and a possessed, smack-talking ventriloquist dummy. When a gaggle of sexy teens try their hand at summoning the dead, they accidentally unleash a murderous (and libidinous) spirit that won't rest until plenty of blood is spilled. ~ Carly Wray, Rovi
Rating:
R
Genre:
Directed By:
On DVD:
Runtime:
Cast
Critic Reviews for Black Devil Doll
Audience Reviews for Black Devil Doll
This was the most vile, racist, infantile garbage I have ever seen. I rented it from Netflix, where the description is as follows: "The blaxploitation genre gets a satiric reboot in this tale of the supernatural. Buxom Heather (Heather Murphy) experiments with a Ouija board, infusing a ventriloquist's dummy with the soul of a militant black murderer just as he's frying in the electric chair. Now, the doll is free to continue his rampage, raping and killing white women with abandon, as Heather and her airheaded girlfriends run for their lives." This description is incredibly misleading. This slime has absolutely nothing to do with blaxploitation movies and doesn't have a bit of satire in it. The only black actor in this has a bit part as a convict about to be electrocuted. There are no other black characters, unless you count the dummy which does nothing but kill and then rape white women (and one white man). There's no story, not even an attempt at one. Satire implies that something is being made fun of. What, exactly, is being satirized in this trash? I don't believe in censorship, but I will say this: I watched 40 minutes of this nastiness and am ashamed of myself for having put up with it for that long. If you've seen this and actually enjoyed it, please let me know so that I can avoid you for the rest of my life. I can't believe that anyone would even agree to distribute something like this.
Brian Seitzman
½
When a girl gets bored and decides to play with a Ouija Board little did she know what kinda evil she was gonna unleash of course this evil comes in the form of a out of control puppet like chucky only more out of control now the puppet wants her friends so she asks them to come over what will happen to the friends? to her? to anyone else that comes in contact with this out of control puppet? all these questions will be answered to anyone thats willing to sit through this movie. Now i enjoyed this movie alot but this isnt gonna be for alot of people you need to enjoy B movies cheesy movies movies that leave you saying what the hell did i just spend a hour and half lookin at if any of these apply to you then please check this out Highly Recommended
WOW! is the best way to put this movie. It is a great film for what it is (Blacksploitation), and knows what it wants to achieve. "Devil Doll" has the funniest lines ever, and is the best thing about the film. I suggest gathering some friends and have a great time watching the genius film title "Black Devil Doll".
Juan Canino
Discussion Forum
Discuss Black Devil Doll on our Movie forum!
News & Features