Black Girl
(1972)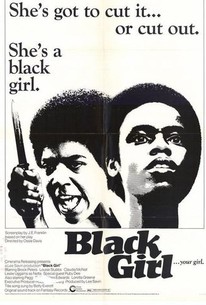 AUDIENCE SCORE
Critic Consensus: No consensus yet.
Movie Info
In this melodrama a mother tries to compensate for her feelings of inadequacy and failure as a parent to her own children by taking in a troubled foster child. As she struggles to make up for her past mistakes, her jealous daughters mistreat the girl.
Critic Reviews for Black Girl
There are no critic reviews yet for Black Girl. Keep checking Rotten Tomatoes for updates!
Audience Reviews for Black Girl
½
Released in 1972,the motion picture "BLACK GIRL",was originally a play that was written by Texas born writer J.E. Franklin,based on the stage play of the same title and was adapted for the screen by Franklin and directed by the great Ossie Davis. The film version is basically an updated version of the story of "Cinderella",or the blaxploitation of it which is set in the Watts section of South Central Los Angeles in the early 1970's. The result was an effective but stagely extended family drama,with three sisters(Gloria Edwards,Loretts Greene,and newcomer Peggy Pettit)plotting against the successful daughter,the college-educated daughter Netta(Leslie Uggams)who was adopted and made something better for herself and used her education as the ticket out of the ghetto. The other two sisters,Ruth Ann(Greene),and the ignorant-as-hell Norma(Edwards) were the most horrible and were jealous as hell at what Netta has become: successful and college educated and is making something out of herself. These two tramps are just as ignorant as they come..both are married and have a litter of uneducated and unmannered and untrained children. It's odd because where are Ruth Ann's husband and Norma's? Either these husbands were deadbeats or for that manner doing drugs or in another aspect during time in prison. They were never around,and never are. The third daughter is Billie Jean,who is the youngest daughter and has quit high school and is dancing in a lowlife bar. Billie Jean wants to be a dancer as her ticket out of the life she is living while the head mama of the house Mama Rose(Louise Stubbs)works as a maid to make ends meet,while the other two daughters who are grown don't do a damn thing.....lazy incompetent bitches who just laid around the house and talk about everyone else's lives,but they couldn't get their own act together. The grandmother(Claudia McNeil) is the head honco trying to keep things together in the house where they lived along with the Rose's other husband,Herbert(Kent Martin). Things get even worst when the girls' real father,and Rose's ex-husband and two girls other daddy,Earl(Brock Peters) comes by for a visit and makes a vulgar comment about the youngest child,who wants to take her to Detroit and make her into something she doesn't want to do! The unexpected happens where Billie Jean is drag down to the hateful level of her other two sisters when the adopted one comes home for a visit from the university. And the sparks fly when Netta get even with the other two lowlife sisters and finally decides to take Billie Jean out of the environment of corruption she was and finally Billie takes Netta's advice as getting an education as a way out and pursing her own career. The performances in this film are first rate since BLACK GIRL mainly shows what was the acting style ifor African-American actors during the 1970''s. This picture came out at the mecca of black cinema when several films that were released in 1972 such as "Lady Sings The Blues", "Sounder",and the action films like "Super Fly","Slaughter" were the order of the day and this what drove audiences to see them. Not every 70's black movie had a drug dealer/pimp/police-detective or prostitute. These films had something different and BLACK GIRL is one of them. There are cameo appearances in this one including Ruby Dee who plays Netta's disturbed mother that couldn't care for her. Also to watch for too: actor Nathaniel Taylor has an cameo appearance is this film too playing a tough-talking street pimp. Taylor was also known to audiences as "Rollo" on the classic 70's television series Sanford and Son and also was the father of Rerun on the another 70's series What's Happening!
Mister Caple
Super Reviewer
Black Girl Quotes
There are no approved quotes yet for this movie.
Discussion Forum
Discuss Black Girl on our Movie forum!