Black Bread (Pa Negre)
(2010)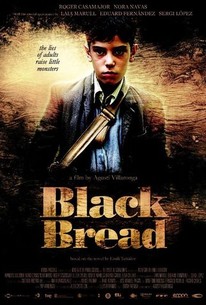 AUDIENCE SCORE
Critic Consensus: No consensus yet.
Black Bread (Pa Negre) Photos
Movie Info
This drama from director Agustí Villaronga takes place in Catalonia during the immediate post-war years. A young boy named Andreu, who belongs to the losing side in the conflict, happens upon the bodies of a man and a young boy in the woods. Local officials want to blame Andreu's father for the situation; in response, Andreu decides to try and help his dad by setting out in search of the real killers. Slowly but surely, the deception of the adult world comes into focus before his eyes, and he must commit an act of extreme betrayal to save himself.
Rating:
NR
Genre:
Directed By:
Written By:
Runtime:
Studio:
Critic Reviews for Black Bread (Pa Negre)
All Critics (3) | Fresh (3) | Rotten (0)
Black Bread is one of SFIFF's more understated films, despite a few fairly grotesque moments. It has some interesting camerawork, solid performances and an intriguing story, all of which make this one worth a watch.
While history is important to the narrative, the director cleverly subverts the audience's expectations, slowly revealing a much more nuanced and layered film, with a disturbing mystery at its core.
Audience Reviews for Black Bread (Pa Negre)
½
A slightly Dickensian story of a boy finding his way in the world as he learns to sacrifice sentiment for practicality and family for advantage. Beautifully filmed as well.
Michael Harbour
While I didn't like it in whole, I surely did like it in parts. It was intriguing in parts which consisted of twists and turns; few unexpected while the rest of 'em were predictable. But predictability didn't serve as a big-time drawback for this one. The movie concentrated on (or boasted of, take your pick) human ideals and how they change their shape as per the circumstances. It's quite well told via the story of a child's troublesome life. What I didn't like was certain loopholes and a few things left unexplained (and the latter might be intentional). All the actors were new to me, but most of them gave a remarkable performance, especially the child playing the role of Andreu. Not highly recommended, but it's watchable enough..... Well, at least IMO (which are always honest).
familiar stranger
Super Reviewer
½
My leading contender for 2011 Film of the Year. It's a coming-of-age drama/mystery set in rural Catalunya just after the Spanish Civil War. Sounds a bit like Pan's Labyrinth, and some of the scenery, costuming, and set design is similar to that Spanish hit, but this is a VERY different film. It has an unforgettable opening scene, great acting from a large cast that includes several excellent child actors, and is driven by a compelling and surprising series of plot revelations and twists involving family/village secrets. A haunting, devastating work of art.
Dan Alban
Black Bread (Pa Negre) Quotes
There are no approved quotes yet for this movie.