Black Circle Boys
(1998)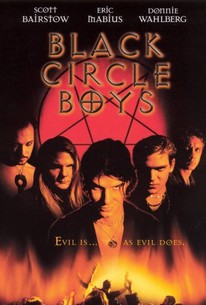 AUDIENCE SCORE
Critic Consensus: No consensus yet.
Movie Info
Still reeling after witnessing the death of his best friend, a confused and disaffected teen is further distressed when his father uproots him from California, where the once clean-cut and popular boy was an All-American swimmer, to Washington State where he gets involved with a heavy metal rock band and begins experimenting with Satanism.
Critic Reviews for Black Circle Boys
There are no critic reviews yet for Black Circle Boys. Keep checking Rotten Tomatoes for updates!
Audience Reviews for Black Circle Boys
½
Eric Mabius is just beyond words funny in Black Circle Boys. Scott Bairstow is also cool as well- about a bunch of misfits who decide to start a semi-goth band but end up in a sticky web of intrigue that involves murder, black magic, and pseudo gothic-industrial music. Spectacular.
Jason Anderson
½
Total 'B' movie about a gothic kid who wants to become the devil. I remembered it 10 years later, so it couldn't have been that bad, right? I liked how he showed how powerful he was by holding his breath for 10 minutes, whatever...
John Trifiletti
People you may know in the movie: Scott Bairstow, Eric Mabius, Donnie Wahlberg, Lisa Loeb (she?s the gal in the club who yells at Shane-took us a while to figure that one out) Evil Is?. As Evil Does. I don?t know what my sis & I were expecting when we rented this movie, but it definitely wasn?t this! Supposedly based on a true story, Black Circle Boys is a film exploring teen angst, black magic, drug use, & devil worship. I think what got to us the most is the fact that we could be considered the Black Circle Sisters (without the murding?wink wink, and drug use). It?s one of those films that we have practically forced all of our friends to watch. There seems to be a ?conspiracy? behind the film. When going to rent the movie for a friend to watch who lived in a different town, we had to go to 3 different places before we found an available copy. At one of the places the movie had been stolen, the other it was rented out. From the 1st time we rented the Black Circle Boys, we had almost sole custody of it from the place we rented from. But we did notice that there was someone else who would snatch it up whenever we couldn?t afford to rent it. I own my own copy now!!!!! YEAH!!! There are quite a few scenes in the movie that are so funny it?s hard to believe, but I?ve read many reviews that say the film is told with a disturbing level of honesty & believability. Which I just don't see myself! It?s a stupid movie really, but I love it anyway! For some reason, any movie that makes me think it should be on Mystery Science Theatre I love. At any rate, I would and do recommend checking this film out (if you can find a copy ;) !), it just might get added to your list of favorites. Why it's still on mine is up in the air.
danela higgins
Black Circle Boys Quotes
There are no approved quotes yet for this movie.
Discussion Forum
Discuss Black Circle Boys on our Movie forum!