Black Dawn
(2005)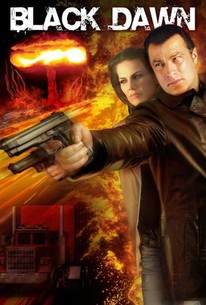 AUDIENCE SCORE
Critic Consensus: No consensus yet.
Movie Info
An undercover CIA agent must fight for his life when his cover is blown during a heated assignment in this action entry starring martial arts mainstay Steven Seagal. CIA agent Jonathan Cold (Seagal) is attempting to infiltrate a group of well-known arms dealers when his former student is captured and his cover is blown. Now, with little time to spare before the wrathful weapons dealers sell a powerful nuclear bomb to an Eastern European terrorist cell, Agent Cold must race to save his former student while simultaneously stopping the bomb from falling into the wrong hands.
Rating:
R (violence, language and brief sexuality)
Genre:
Directed By:
Written By:
In Theaters:
On DVD:
Runtime:
Studio:
Sony Pictures Home Entertainment
Critic Reviews for Black Dawn
All Critics (2) | Fresh (0) | Rotten (2)
Steven Segal--still chopping (it's a struggle), still kicking (it's exhausting), still in a career slump (it's over, cookie).

Bangor Daily News (Maine)
Make no mistake, Black Dawn isn't good by any stretch of the imagination - but it's certainly a substantial improvement over some of Seagal's more recent efforts.

Filled with crisp pacing and a fairly-interesting story that's carried out with acceptable fervor.
Audience Reviews for Black Dawn
Steven Seagal isn't the only action movie star to continue making movies long after his prime. The difference is that the rest of them are still pretty charismatic in the twilight of their career. and Seagal has never been that. His early movies were fun because of his fighting skill, and now that that has passed him by, there's not much left. "Black Dawn" is one of the worst of his newer efforts, a ridiculous and boring thriller with grandiose ambitions on a miniscule budget. Seagal does better with smaller scale projects, and this lofty premise bout terrorists trying to blow up Los Angeles, is just too much for him to pull off. There are too many characters, so much so that their motivations and goals begin to get cloudy and confused. There's a lot going on and none of it is worth following. Seagal continues to embarrass himself by the obvious use of a stunt double who looks nothing like him in most scenes. The one brief fight scene he has looks like it was filmed while he was in the other room eating a bagel. The horrible CGI used in the finale is appallingly bad when the nuclear device is detonated over the ocean, but the strange thing is that computer effects are used in key scenes to presumably keep the budget down and the aging star safe. Look at the scene on the back of a truck or the helicopter at the end, and it's all phony. "Black Dawn" is budget filmmaking at its worse, an attempt to create a product because there might be demand for it overseas. It's slow-moving, cheap-looking and will entertain absolutely no one. If you've stuck with Seagal for this long, you deserve better.
Timothy Sanders
½
Rare when a sequel is better then the first, rarer when a Seagal sequel is better than the first, and even rarer when the sequel is better than the first, but it still is a crappy movie. There's some cool action and some decent car chases which I enjoyed, which in fact is the only reason it is better than the first.
Dutch Vandar
The movie is very much in the style of the Jason Bourne movies with the formula agency spooks and espionage stuff. The first and last 20 minutes are pretty good and even though the middle section drags quite a bit the movie still never had that feeling of being terrible like Today You Die. The bad guys aren't too clichéd while John Pyper-Ferguson is a welcome casting, even though he seems to be putting on a bizarre accent. The fight sequences, which are extremely few and brief, are poor. The poorness of the fights however are due to the fact that Steven Seagal isn't present in any of them, even though his character is involved. However there is a great car chase and the movie also includes some impressive stunts.
Steven Vincent Gee
Super Reviewer
Black Dawn Quotes
There are no approved quotes yet for this movie.