Black Eagle
(1988)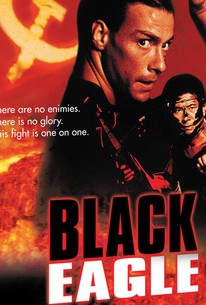 AUDIENCE SCORE
Critic Consensus: No consensus yet.
Black Eagle Videos
Black Eagle Photos
Movie Info
When a specially equipped F-100 jet is lost over the Mediterranean, the CIA kidnaps the children of a CIA agent to ensure his utmost cooperation in the retrieval of the plane. Unfortunately, there's a Russian agent hot on the trail of the craft, too.
Rating:
R
Genre:
, ,
Directed By:
Written By:
In Theaters:
On DVD:
Runtime:
Studio:
Imperial Entertainment Corp
Cast
Critic Reviews for Black Eagle
All Critics (1) | Fresh (0) | Rotten (1)
With one chase, one aborted fight and one small fight on a boat in the first 55 minutes, Black Eagle isn't exactly an action movie

Audience Reviews for Black Eagle
½
Ah one of those old JCVD movies that wasn't actually a JCVD movie. I remember being fooled by this back in the day when I was a kid, the cool looking movie poster with both Kosugi and JCVD looking uber badass, the movie title in that striking old USSR logo, so much promise from one image. This movie is very much like JCVD's other early action flick 'No Retreat, No Surrender', he doesn't appear much in that film either, plus he also plays yet another baddie Russian character. So back in the 80's JCVD was kinda typecast as a Russian henchman, guess he had that look. The plot actually revolves around Sho Kosugi, a special ops operative who is called up to find some downed hi-tech equipment from the bottom of the Mediterranean. Some laser tracking devices went down with a jet that was shot down by whoever for whatever reasons. This is all set in Malta and is now very dated to look at of course, in fact the entire thing looks very much like an old James Bond flick, especially with the whole downed jet with hi-tech equipment scenario. It all feels very much like 'Never Say Never Again' to me. At first I thought this was just me but no! this movie does actually try its best to rip-off the Bond franchise. Hell there's even a smoky casino sequence with the main villain and his sidekicks at the roulette table facing off against Kosugi. The whole scene is clearly lifted straight outta the 007 universe, 'Dr. No' much! The location work for this movie is extremely impressive I must say, its easily the best aspect of the feature. Every scene is shot in and around the beautiful and awe-inspiring sand coloured stone structures of Malta and its various famous landmarks. To be quite honest most of this movie is actually rather dull frankly, all we see for the most part is Kosugi pussy footing around like a beige coloured ninja or swimming in crystal clear blue waters. He also has a sidekick, some other skinny dude who aids him with intel. The rest of the time it cuts to scenes with his two kids who eventually get kidnapped, and that's the only reason they are there...to be kidnapped. Sure Kosugi's bosses used the kids to get him to do this assignment but after that it makes no real sense why they hang around in the face of obvious danger. If all this hadn't been shot against this stunningly historic, sand coloured land of ancient wonder then it would be completely pointless. After lots of rather mundane dialog and hints of JCVD's grandness, we finally get a showdown between him and Kosugi. The setting is perfect, atop of some crumbling derelict old fortress wall (or so it seemed), a blazing sun high in the clear blue sky, both men glistening in the Mediterranean heat (oh my!), JCVD vs Kosugi, round 1, fight! Annnnd its all over in less than three minutes, yep a few kicks, a few ducks and parries, a bit of blood around the chops and its all over. We now have to wait to the very end for another face-off, ugh! Yep then its back to more of Kosugi prancing around with his skinny sidekick as they create their plan to infiltrate the villains main ship, thing is I can't remember why. Not that any of that matters now because this is the lead up to the main battle, the main battle against Ernst Stavro Blofeld and his hordes of henchmen aboard his...oh wait. Yep we now get a quick 'Commando' rip-off with Kosugi gearing up and covering himself in black tar by the looks of it, he does a sloppy job of it too sheesh! Lock n load with a bigass crossbow to rip-off Rambo a little bit, then its off we go to kill all the bad guys. This all leads to the finale fight with JCVD, round 2, fight! It lasts a bit longer this time but it never really hits it stride, both men seem to take turns in doing all their signature moves whilst trying not to hurt each other too much. Some nice swing and misses with sweeps and roundhouse kicks etc...but nothing that will get you frothing for more. I lost the plot ages ago with this, they were after these laser tracking devices and I'm sure Kosugi found them and won the movie halfway through, I dunno. It had to lead up to some sort of big showdown with guns and plosions. Its a very odd movie really, Kosugi isn't much of a leading man or fighter judging by this, plus his accent is very heavy and hard to follow at times. JCVD is wasted but does make a fun bad guy, whilst the main villains are pretty pathetic, completely non-threatening, just suits. Clearly they were trying for a slick Bond-esque type romp with semi-serious overtones, yet at the same time they throw in little bits from other franchises too just to make sure, they even get Kosugi's kids in on the action. In the end the plot goes MIA halfway through and it all becomes a very lame excuse just to get Kosugi facing off against JCVD (in a pretty location). The problem being its all a completely wasted opportunity because most of this film sucks, if anything it serves as a fantastic tourist advertisement for the Island of Malta and its idyllic cobbled backstreets.
Phil Hubbs
Super Reviewer
Normally I would keep this opening bitch for the bonus rant section but I have to make a special case for this film. The DVD cover art I have has a lone picture of Jean-Claude Van Damme with a tattoo of a black eagle on his chest. From this we can assume that Van Damme is the main star and that his code name is "Black Eagle" due to his tattoo. First of all Jean-Claude Van Damme is NOT the main star and he does NOT have a black eagle tattoo. Oh yes, he is in the movie but he only gets second billing. This is actually a 1988 theatrical film starring none other than ninja legend himself Sho Kosugi though he is not credited on my DVD cover. Sho is the main character with the code name the title is referring to. Despite what some versions of the cover art wants you to believe, this is actually a Sho Kosugi action film with Jean Claude Van Damme only playing the villain's main henchman. By the time this film came out in 1988 Sho Kosugi's popularity was starting to decline in the action film market and Van Damme's was only just beginning, hence why the some DVD companies did this cloak and dagger DVD cover into fooling potential purchasers. This cover art actually worked against me when I first heard of it. If they used the original poster artwork and showed me it was actually a Sho Kosugi film I would have been much more apt to buy it at first as I am not that huge of a fan of Van Damme, especially his direct-to-video garbage which some DVD covers makes it look like. Now that I got it straightened out with you that this is a Kosugi film and NOT a Van Damme film, I'm going to throw another curve ball your way. Kosugi doesn't play his trademark ninja character here that he was known for throughout the 80's. Kosugi not playing a ninja? How can this be? He actually plays a spy/assassin here. The plot is actually very similar to a James Bond film. An American plane crash-lands in the Mediterranean and Kosugi is brought in to track down a top secret laser tracking device. It must not have been too top secret as the Russians quickly move in to capture it first. Typical spy action occurs as Russians kidnap Kosugi's family and it ends up a showdown between Kosugi and Van Damme. The film really plays off like a poor man's James Bond film. It's like James Bond, extra light with no sugar or caffeine. Sure there's even a sequence when our main spy meets our main villain and henchman over a card game while wearing tuxedos but all the action and chase sequences are very bland and by-the-numbers. The plot also isn't that exciting and director Eric Karson takes his sweet time getting the picture to move along. Still my biggest complaint is that Kosugi always seems to get the filmmakers to cast his children in his movies (Kane and Shane). They are horrible actors and it just annoys me when stars force filmmakers to use their family members. Though not unwatchable it is just very forgettable action film and isn't near as fun or over-the-top as Kosugi's early 80's action films for the Cannon Group. The film also doesn't seem to hold up well for Van Damme fans either as he barely says any lines. I actually felt after watching the film that Van Damme would have been better in the spy role and Kosugi in the main henchman role. I always felt Kosugi made a much better villain, especially with those small vengeful eyes. Still it was interesting to see two of the 80's biggest action stars go head-to-head for a short time despite the film being completely forgettable.
Eric Reifschneider
JCVD plays the main baddie, but his role is rather limited. The main plot is about a guy, his kids, and his love interest trying to destroy the KGB and the possible secrets they uncovered. It's pretty horrendous. The direction is sloppy, with no clear tone, the lighting is awful, and the acting is unconvincing. The action isn't that well done either, causing this film to be a huge snoozer.
Bobby LePire
Discussion Forum
Discuss Black Eagle on our Movie forum!
News & Features