Black Fury
(1935)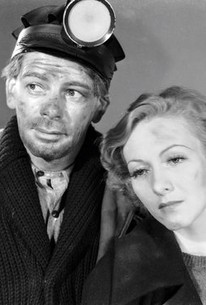 AUDIENCE SCORE
Critic Consensus: No consensus yet.
Movie Info
Like many 1930s Warner Bros. films, Black Fury drew its inspiration from the headlines. The story is adapted from a true-life incident from 1929, wherein a striking Pennsylvania coal miner was beaten to death by three company detectives; this served as the focus for Henry R. Irving's stage play +Bohunk as well as Judge M. A. Musmanno's story Jan Volkanik, both of which were woven into Black Fury's screenplay. Using a Polish accent so thick one can cut it with scissors, Paul Muni plays an illiterate miner, happy in his job and his company-town surroundings until his girl Karen Morley deserts him for policeman William Gargan. A disconsolate, drunken Muni stumbles into a labor meeting, where his loud, unthinking outbursts win him the leadership of the new miner's union. When the company locks out the strikers and brings in scabs, the angry miners hold the thick-headed Muni responsible. Fellow miner John Qualen, Muni's best friend, is then killed by a gang of rampaging hired goons. Vowing to "feex" the situation, Muni kidnaps head goon Barton MacLaine and takes him into the bowels of the mine with several sticks of dynamite in tow. Muni threatens to blow himself, MacLaine, and the mine to smithereens unless management comes to terms with the union. Thanks to overwhelming public support, the owners capitulate, and Muni is the hero of the hour. Though it seemed uncompromising in 1935, Black Fury obviously pulls its punches when seen today; for example, it is suggested that the mine owners are guiltless regarding violence against the strikers, laying blame on the hired detectives, who are shown to be in the employ of a crook who plays both sides against the other. Even allowing for this, Black Fury is one of the most powerful of Warners' "social conscience" films. Although the Academy gave Muni a Best Supporting Actor nod for this film, the AMPAS database indicates that it wasn't an "official nomination" - he was a write-in candidate, and came in second.
Rating:
NR
Genre:
,
Directed By:
Written By:
In Theaters:
On DVD:
Runtime:
Studio:
Warner Bros. Pictures
Critic Reviews for Black Fury
All Critics (2) | Fresh (1) | Rotten (1)
Paul Muni gives a dramatically intense, Oscar-nominated performance as a coal miner fighting union corruption.

It's lively, probably good for its time period and is properly sympathetic to the hard-working miners; when viewed today it's badly outdated.

Ozus' World Movie Reviews
Audience Reviews for Black Fury
½
[img]http://ikoi99.web.infoseek.co.jp/movies/posters-stills/US/PaulMuni.jpg[/img] In the 1930s, Warner Bros. was known for its controversial, violent film. But surprisingly, the only film they ever made about labor was [i]Black Fury[/i], a film based on a real coal miners strike. It was banned in several states and countries for it's sympathetic look at struggling coal miners, and with all the controversy around it, it's surprising it isn't better known today. Paul Muni plays an immigrant coal miner who couldn't care less about the union. He's happy with his job and his fiance, Karen Morley. But Morley runs off to Pittsburgh with a police officer, leaving Muni drunk and angry, and soon he somehow finds himself the president of a fringe union. But sweet, slightly dumb Muni doesn't realize he's just being used as a pawn. Paul Muni was a really interesting actor. He adapted incredibly well into his roles and was a master with accents. While I don't think this is one of his best performances, he's very good. Sometimes he plays up the stupid side of his character a little to much, to the point where it's unbelievable, but he has amazing control over his emotions. Karen Morley, though second billed, is only in about half of the film, but she's quite good. She seems rather boring and cliche as the guilty girlfriend in the beginning, but when she comes and sees what Muni has made of himself, she gives her love and admiration a real emotional punch. There are supporting performances that are pretty good, but nothing of note. Except for John Qualen as Muni's best friend who feels betrayed when Muni joins the fringe union. The acting really is the best thing the film has going for it. The story drags a lot in the middle, and there are a lot of long scenes of Muni wallowing in self-pity, but the ending is pretty exciting, and there's a pretty good opening, though Muni's turnaround in behavior seems a bit too sudden. [b]Final Grade: [/b]B
Katie Richardson
½
Excellent portrayal of the conditions faced by coal miners in the early 30's, and the forces at work driving wedges of distrust between labor and managment. In this case it was the fault of neither. Paul Muni is excellent as Joe Radek, a Polish miner who gets caught in the middle and fights to make things right. A must see!
Mark Vestich
Black Fury Quotes
There are no approved quotes yet for this movie.