Black Girl (La noire de...)
(1966)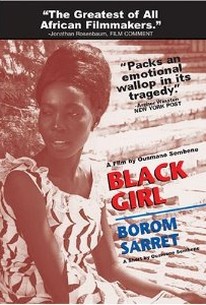 Movie Info
The first major work of Senegalese director Ousmane Sembene, this 1966 film is widely recognized as one of the founding works of African cinema. Diouanne Therese N'Bissine Diop, a young Senegalese woman, is employed as a governess for a French family in the city of Dakar. She soon becomes disillusioned when the family travels to the Riviera, where her comfortable duties as a nanny in a wealthy household are replaced by the drudgery and indignities of a maid. In a series of escalating confrontations with her mistress (Anne-Marie Jelinek), Diouanne is painfully reminded of her racial identity. She is caught in the tension between the French upper-class and post-colonial West Africa and finds herself alienated from both worlds. Along with narration and dialogue in French, this film also shares the sparse tone and visual style of French cinema of its period. Nevertheless, the influence of Sembene's European counterparts does not diminish this subtle but striking examination of racial and cultural prejudice. ~ Jonathan E. Laxamana, Rovi
Critic Reviews for Black Girl (La noire de...)
Audience Reviews for Black Girl (La noire de...)
½
I am not exactly sure what would considered to be "feature length," but this film is a good example of a shorter film - close to 60 minutes. The key to this gem is the idea of tension between social classes/ethnicities when the titular "black girl" doesn't believe such a tension would be created. The protagonist is picked up from Dakar, and she expects to be working as a maid when her client is looking for workers. She tells the audience her internal thoughts with voice over and we know her expectations are to not be treated like a slave. This is a tragic story with a never-ending loop, where the girl refuses to work until she can eat or be paid while her employer refuses to feed her until she works. We feel for Diouana because she is told to do work that is not even part of her duties such as watching the children; she believes that responsibility should be the mother's, and she is right. What is upsetting is that she slashes her own throat so that she will not live without her dignity. This movie was so short there isn't much to say; it is a good tragedy but one I would only like to see once.
Rob Starzec
½
I didn't hire you to sleep! A girl from Senegal is hired as a servant in France. She is often mistreated and socially talked down to. She may not be the worst treated servant in Paris, but that doesn't cause her any less cause for concern. She has dreams of something better, but is she destined to always be a servant? "We're not in Africa!" Ousmane Sembene, director of Moolaade, Xala, Camp de Thiaroye, and Mandabi, delivers Black Girl. The storyline is interesting as the main character is worth following. The plot isn't particularly interesting and the dialogue was pretty average. The cast delivers above average performances and includes Robert Fontaine, Mbissine Therese Diop, and Ann-Marie Jelinek. "She wanted to keep me here as her slave." This is a highly regarded historical film that I decided to grab off Netflix. I will say this was okay and slightly above average but it didn't overly keep my attention or get me excited to see how it unfolds. This is a very average I only felt was worth seeing once. "I had to make coffee myself. She's useless!" Grade: B-
Kevin Robbins
½
I've often thought (and sometimes have stated) that for a film to truly succeed it must have a powerful ending. Whether that power be found in deeply profound thought, or emotional resonence, does not matter. All that matters, to a degree, is how you end a film. Black Girl ends on a profound thought which translates into a strong emotional pull. Black Girl is about a young Senegalese woman named Diouanne who is brought over from her native land to work for a French couple (in their native land) under the false pretenses that she would be caring for the couples children. When she arrives, full of excitement and romance about her new home, Diouanne is quickly struck with the reality of her new station in life. She is a white woman's servant. Feelings of mutual animosity rise between the two women expressed in the white woman's outward attitude toward the help, as it were, while Diouanne keeps her mouth closed and seathes from the inside. Eventually, enough becomes enough and Diouanne decides that she will be no one's slave and takes a final drastic measure to ensure that she never will be again. The final images of Black Girl are what have stayed with me. The white woman's husband who has traveled back to Senegal in order to settle matters with the young woman's family attempts to pay for the life of Diouanne who had taken her own life in the man's bathtub. Bringing with him the woman's wages and a traditional mask (given to her by her mother upon leaving for France), he attempts to atone for the sins of him and his wife. The mother refuses the money, turning away in disgust. A little boy retrieves the mask and places the grotesque visage upon his own. As the man walks away in confusion the little boy follows Diouanne's former employer as if the spirit of her ancesters were haunting his every ignorant step. He looks back, unable to shake the image from his past. At last, he gets in his car and drives away without ever confronting his own prejudice, no matter how begnine it may have appeared against his wife's overt disgust with this woman who was, in her eyes clearly beneath her.
Jesse B
Black Girl (La noire de...) Quotes
There are no approved quotes yet for this movie.
Discussion Forum
Discuss Black Girl (La noire de...) on our Movie forum!