Black Heaven (L'Autre Monde)
(2010)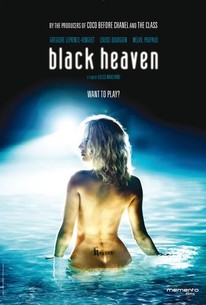 AUDIENCE SCORE
Critic Consensus: No consensus yet.
Black Heaven (L'Autre Monde) Videos
Black Heaven (L'Autre Monde) Photos
Movie Info
A breakout selection of the midnight section of Cannes in 2010, BLACK HEAVEN is directed by an exciting new French filmmaker called Gilles Marchand. The story (featuring a terrifically sexy young cast) follows an innocent young kid, Gaspar (Grégoire Leprince-Ringuet of LOVE SONGS), who, becoming enamored with a mysterious/gorgeous girl (Louise Bourgoin, THE GIRL FROM MONACO), is lured into "Black Hole" - a dark, obscure video game world of avatars with deadly serious intentions in the real world. -- (C) IFC
Rating:
NR
Genre:
, , ,
Directed By:
Written By:
In Theaters:
On DVD:
Runtime:
Studio:
IFC
Critic Reviews for Black Heaven (L'Autre Monde)
All Critics (1) | Top Critics (1) | Fresh (0) | Rotten (1)
Marchand just has no idea how to resolve the elaborate puzzle he's built, and once Black Heaven has to start providing some answers, it collapses into a pile of hackneyed contrivances and ridiculous revelations.

Audience Reviews for Black Heaven (L'Autre Monde)
L'Autre Monde (Gilles Marchand, 2010) L'Autre Monde, released in English-speaking countries as Black Heaven, seems like exactly the kind of movie I would dig. It's the second feature from writer Gilles Marchand (his first was 2003's Qui a Tuà (C) Bambi?, which got all the appropriate press and a few award nominations). It features a bunch of young and very beautiful folks, some of whom are computer geeks. It features some exceptionally well-done computer-rendered sequences (approximately a quarter of the movie takes place in a Second Life-style world known as Black Hole). It's a thriller that's striving to be noir without ever quite getting there. All of these are things I treasure in movies. And yet... and yet. Plot: Gaspard (Army of Crime's Grà (C)goire Leprince-Ringuet, who's just made for movie stardomâ"he looks like the angelic offspring of Ryan Gosling and Ben Affleck) and his new girlfriend Marion (Private Lessons' Pauline Etienne), while cruising around on the Vespa looking for secluded places to cuddle, stumble across the path of a mysterious, hooded woman and her companion. (We later find out these two are named Audrey [The Extraordinary Adventures of Adà (C)ele Blanc-Sec's Louise Bourgoin] and Dragon [Romantics Anonymous' Swann Arlaud].) On a whim, they decide to follow the two, and stumble onto what seems to be a suicide pact. Dragon is already dead, but Gaspard breaks into the car that's filling with carbon monoxide and pulls Audrey out, saving her life. This leads to him discovering what would seem to be her obsession with Black Hole, the alternate world where she met Dragon. Gaspard finds himself becoming obsessed with both Audrey and Black Hole despite being warned away by Audrey's overprotective brother Vincent (The Lover's Melvil Poupaud), and as his real-life relationships with Marion and his best mates Yann (The Snows of Kilamanjaro's Pierre Niney) and Ludo (Ali Marhyar in his screen debut) fracture, he gets drawn into the alluring, seemingly kinky (without ever really being so) web of Heaven, Black Hole's most exclusive nightclub. All of which is quite wonderful, save one major problem: I never bought it. Not for one second was I convinced that Gaspard, who starts the movie so blissfully happy with Marion (and let's face it, Pauline Etienne is one of the most delicious dishes to come down the pike since Lillian Gishâ"and she's got that same wide-eyed innocence about her, too), is suddenly going to find himself drawn to trashy, low-rent Audrey. I can certainly see where he might find himself attracted to both, but the script, co-written by Marchand and his on-again off-again partner Dominik Moll, doesn't give us that optionâ"Gaspard goes from completely happy with Marion to completey obsessed with Audrey as if someone flipped a switch in his head, and we see nothing in his character, at any time in the movie, that would make us understand this transformation. During the first half of the movie, Gaspard is a stand-up guy, almost unbelievable in his angelicness. He's the perfect boyfriend, he's great with kids, even Marion's dad likes him (though like all dads, doesn't trust Gaspard as far as he can throw him). He lets off a little steam with Yann and Ludo now and again, but that doesn't change the fact that Saint Peter would call âwelcome, brother!â? when he hit the pearly gates. And then, suddenly, BAM. And the only motivation we're given is âhere's another girl for you to chase after.â? I still don't buy it. If you can get past, or simply never think about, character motivation, there's a lot here to like. It's a slick, stylish, otherwise well-plotted thriller that teases you without ever quite delivering. Kind of like having sex in an alternate world. And I have to give Marchand props for the final shot, which is set up perfectly throughout the second half of the movie. I just wish I understood more of the why behind pretty much everything our main character did in that second half. **
Robert Beveridge
L'autre monde ("The other world") (titled "Black Heaven" in English) is a 2010 French film directed by Gilles Marchand and starring Grégoire Leprince-Ringuet, Louise Bourgoin, Melvil Poupaud and Pauline Etienne. It tells the story of young Gaspar, who is lured by a beautiful girl into an obsessive, deadly video game.Despite the good inicial idea and screenplay, the whole production loose itself from the middle to the end in a not interesting plot.
Andre Tavares Simoni
Super Reviewer
In a word, intriguing. Good performances by the entire cast. It's slowly paced, but keeps the viewer's attention throughout. I enjoy movies where I'm drawn into the protagonist's perspective, and I want to make decisions and live through them. It's worth a watch. Not many movies have incorporated online role-playing games into the premise. This movie does so successfully. Getting lost in an online fantasy appeals to some of generation X, and this film blends that fantasy into reality.
Mad Martigan
Black Heaven (L'Autre Monde) Quotes
There are no approved quotes yet for this movie.
Discussion Forum
Discuss Black Heaven (L'Autre Monde) on our Movie forum!