Black Legion
(1937)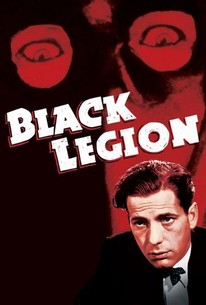 AUDIENCE SCORE
Critic Consensus: No consensus yet.
Movie Info
Though this brutal, gripping social drama is based on actual headlines from the 1930s, the story is still disturbingly relevant as it follows the descent of an embittered autoworker who gets involved with a deadly racist organization after a Polish immigrant receives the promotion he thought he deserved.
Rating:
NR
Genre:
,
Directed By:
Written By:
In Theaters:
On DVD:
Runtime:
Studio:
WARNER BROTHERS PICTURES
Critic Reviews for Black Legion
All Critics (2) | Fresh (2) | Rotten (0)
A gripping social drama based on the newspaper headlines of the day.

Ozus' World Movie Reviews
An interesting example of Hollywood message movies of the 30s and a curious snapshot of a star on the rise.

The film is cleverly constructed, and features a nicely delineated performance by Bogart, and it works as straightforward melodrama.
Audience Reviews for Black Legion
½
I tried to tell you the Black Legion guys don't fool. Many American blue collar workers are beginning to lose their jobs to cheaper foreign employees; even if that isn't why they lose their jobs, they often blame the rationale on that excuse. When a machinist loses a promotion to a Polish man, he joins a cult of sorts known as the Black Legion that "takes out" foreigners that threaten the American way. "Do you have to wake up every morning with a hangover?" Archie Mayo, director of The Petrified Forest, A Night in Casablanca, Angel on My Shoulder, Sonny Boy, The Sap, Courage, Under 18, and Street of Women, delivers Black Legion. The storyline for this picture is entertaining and fun to watch unfold but cheesy in a few sequences. The acting is solid and the cast includes Humphrey Bogart, Dick Foran, Ann Sheridan, and Dickie Jones. "You know darn well I'm better than pretty good." I randomly came across this on Turner Classic Movies (TCM) and had to DVR it due to my respect and appreciation I have for Bogart. This isn't his best work, or even in his top 5-10, but it is a different role for him that is worth seeing once. This is an above average addition to the genre that is worth a viewing. "You know you got to train a man just like you do a dog." Grade: B-
Kevin Robbins
This movie is a realistic, but boring drama about a man who joins the kkk because he looses his job and blames it on foreigners. He later realizes it was a bad idea when he kills his friend. It's a pretty simple story, and Bogart does give a good performance, but it's not all that interesting.
The Glory Days of Message Films They say that Superman broke the power of the Klan by openly revealing how silly it all is. He battled the Klan on the radio show (as is only right for a character created by a couple of Jewish boys), and the information was accurate to the Klan codewords and so forth from the time. And when you get the nation's kids cheering on Superman as he fights those dastardly Klansmen, they're less likely to grow up to join the Klan themselves. That would be un-American! Now, I am inclined to doubt that Humphrey Bogart had that much of an impact on anybody with this movie, especially in 1936, before he was a really big name. Though this was a year after the amazing work which was [i]The Petrified Forest[/i]. At any rate, Superman got 'em when they were young, and by the time kids were old enough to get into this picture, they'd probably just scoff at it as Jewish propaganda, or Catholic, or foreigner, or whatever. It's intended to have the same effect as Superman,though. Frank Taylor (Bogart) is just an ordinary working stiff. Only he thinks maybe he might become the foreman, given the current guy's getting bumped upstairs. He's been there a long time, and he's a pretty good egg. He even gets his family's hopes up about it. And then the job is given to Joe Dombrowski (Henry Brandon), who's younger and hasn't been there as long, but who has management written all over him. He reads in his spare time, and he's trying to learn more about the equipment and the system. Frank resents hell out of this, and he decides the problem is that Joe is a Foreigner Taking Our Jobs. (They call him a "Hunyak," or however it's spelled, but the name seems Polish to me.) Never mind that, let's face it, Joe's better qualified. So Frank ends up joining the Black Legion, one of those "patriotic" organizations dedicated to beating the holy living crap out of everyone who doesn't fit their definition of "real American." There's also a love subplot which seems completely irrelevant. Ed Jackson (Dick Foran) is wooing the young, wholesome Betty Grogan (Ann Sheridan). He used to be fooling around with Cheap Floozy Pearl Davis (Helen Flint), or anyway I think that was her name. However, as soon as he realized he was serious about Betty, he threw Pearl (probably) over, which eventually led to her taking some perverse kind of revenge, but in a way which doesn't seem relevant to anything. Then again, very little of this plot seems relevant to anything. I guess Ed is supposed to be a parallel for Frank when he was young and happy and had ideals still in front of him. It is certainly true that Ed has no interested in that Black Legion malarkey, not least because they end up targeting Betty's old man, Mike (Clifford Soubier), at one point. Because he's Irish, you see, and when Frank gets demoted for negligence--he's off recruiting for the Legion--he gets Frank's job. The '30s were a complicated time for race relations in America. It was about the last time when open hatred of Jews was acceptable in America; Germany was starting its march across Europe, and the camp system was beginning. It was still okay for the Klan, of which the Black Legion was an offshoot, to be opposed to Jews and Catholics and foreigners, too. Though we're back to disliking foreigners, provided they're Middle Eastern or Mexican. After the war, it really took the Civil Rights Movement to get the whole thing going again. That was all about the fear of having Those People in our neighbourhoods. When foreigners are added to the mix, it's Those People in our neighbourhoods, taking our jobs. (Including those highly sought-after jobs in the food harvesting industry.) There is never much to suggest that Joe really is all that foreign, though, remember. The name's enough to make the suggestion, and Mike Grogan's daughter is okay to marry a friend of Frank's. But we could all pretend that didn't count. Oh, there are worse Message Films out there, and it's certainly true that the role should have drawn more attention to dear Bogart than it did. He does a fine job here. It may even do something to counterbalance the dreadful, dreadful short film about the honour and glory that was Stonewall Jackson which is part of our "Warner Bros. Night at the Movies" feature, the thing I really like about this series of releases. He's really playing just an average Joe. He works in a factory and does what he can for his wife and kid. When he doesn't get what he thinks he deserves, he gets upset, and he wants someone to blame. The thing is, this was a pattern of thought which helped lead to the rise of the Nazi Party at the same time. (Well, a bit earlier; by the time the movie was made, all other parties had been outlawed in Germany.) People like having someone to blame. It's the appeal of a lot of these things. The idea that, as when Frank is demoted, it can be your own fool fault, is not as appealing.
Edith Nelson
Black Legion Quotes
There are no approved quotes yet for this movie.