Black Limousine (The Land of the Astronauts)
(2010)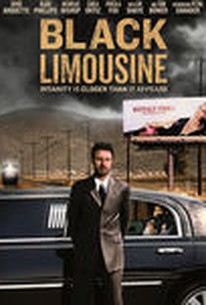 AUDIENCE SCORE
Critic Consensus: No consensus yet.
Black Limousine (The Land of the Astronauts) Videos
Black Limousine (The Land of the Astronauts) Photos
Movie Info
Jack MacKenzie (Arquette), once a hot Hollywood composer, has fallen on hard times. Having resorted to taking a draining job as a limo driver just to make ends meet, he is a broken man, trying to put his life back together by picking up the pieces of a shattered family and career. Jack's sprit and sanity have been crushed by the loss of his first daughter and he has turned to alcohol to deal with the grief. Jack catches a break when he is assigned to drive A-List Actor Thomas Bower (Bishop) back-and-forth to the set of his latest film, during which time the two build a friendship of sorts. Bower remembers the score Jack had previously written for a science fiction epic, and appears interested and willing to help him get re-established. Jack also strikes up a sexually charged relationship with Erica Long (Phillips), a model and singer, who is struggling with demons of her own. Battling his repressed memories, depression and addiction, Jack starts to lose control of the one thing he values most - his mind. He must now pull himself together before something goes horribly wrong. However, in the city of dreams...life isn't always at it seems. With powerful performances and thought-provoking themes, Black Limousine will bring to mind the recent critical hit Drive. Here is a beautiful and haunting examination of a man driven to the brink of madness, dreamlike and harrowing; Black Limousine is truly an unforgettable ride.
Rating:
R
Genre:
Directed By:
Written By:
On DVD:
Runtime:
Studio:
Cineville
Critic Reviews for Black Limousine (The Land of the Astronauts)
All Critics (1) | Fresh (1) | Rotten (0)
Think of Black Limousine as a mini of the surreal masterwork Mulholland Drive, but with less twists and turns.

Audience Reviews for Black Limousine (The Land of the Astronauts)
A something and nothing tale that drifts along looking for it's point but never really finds it. Arquette is the only reason to watch and he does a really good job at conveying a rather dull role. I don't think there is anything so tiresome as a screenplay written by a writer about how hard it is to be a writer and this comes a close second with it's protagonist being a movie score composer, and it's tribute to Arquette that it was watchable... just rather forgettable.
Mark Nash
BLACK LIMOUSINE, Carl Colpaert [reviewed by Nancy Snipper] You can't begin to review this film without highlighting the brilliant acting of David Arquette and Bijou Philips. Arquette plays Jack MacKenzie, a Hollywood composer who has taken on a limo driving job. Unstable and a recovering alcoholic, MacKenzie meets Erica, a femme fatale and actress who is as much an escapist as he is. In fact, in this film, reality and fantasy merge. It's surreal -- an out of space experience for viewer and MacKenzie alike. He composed the music for the film, but he's a has-been, and in his desperation to stay on track with his career, he ends up derailing himself. In fact, the film ends on a lone railway track, and as the train approaches with his stationary limo striding the tracks, we find out just how devastating it is for him to deal with the death of his daughter years before the film unfolds and the land of the astronauts enters everyone's world, including the viewer. This film is uniquely odd and riveting. Arquette is amazing, as awesome as outer space itself.
cineville cineville
Black Limousine (The Land of the Astronauts) Quotes
There are no approved quotes yet for this movie.
Discussion Forum
Discuss Black Limousine (The Land of the Astronauts) on our Movie forum!