Black Ops
(2007)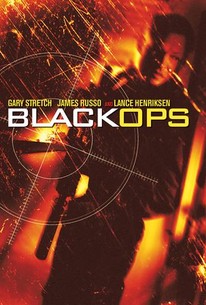 AUDIENCE SCORE
Critic Consensus: No consensus yet.
Movie Info
A World War II-era battleship that has been reactivated and redeployed to the Persian Gulf for black-op interrogations has fallen into radio silence, and elite Marine task force, an NCIS investigator, and a pair of scientists is sent to investigate and report back on any abnormalities. Upon boarding the ship, the Marines are horrified to discover that nearly the entire crew has been ruthlessly slaughtered. But there are a few survivors, and they know that the man responsible for the butchery is a notorious terrorist who operates under the name Fadawi. Now, as the few remaining survivors lead a trained task force directly into Fadawi's lair, they become locked into battle with an enemy who will stop at nothing to kill them and destroy everything they represent.
Critic Reviews for Black Ops
There are no critic reviews yet for Black Ops. Keep checking Rotten Tomatoes for updates!
Audience Reviews for Black Ops
This movie... could have been a lot better. They had really good apperiences as in they looked like real black op guys and the kung fu parts were okay. The shooting of the guns sucked but theres a part were it looks realistic when they are shooting someone at the very end. The movies plot was the typical ghost story but a little cooler because it has to do with a military supersolider and a paranormal relationship to the ship. The acting was okay, but there are some cheesy parts where you are just like wow... this movie kinda drags at parts but it will keep you interested as long as you dont have A.D.D, and the ending I thought was dumb like there is gunna be a second one.
Tommy Muehler
Mildly entertaining in that it piqued my curiosity for a while. Not usual to get a ghost story in a military type movie. I liked Henriksen, as I usually do however I did find it difficult to swallow that someone of his advanced years would be the leader of a squad of SEALS. Got a nice chuckle out of the fact that his son had an English accent when no one else does. Not high cinema by any stretch, but it has enough moments (like the shower scene) to make me not kick myself for watching it.
Don Schick
I went into this movie, not knowing anything about it. When I saw Lance Henriksen, I thought this might be one of those decent B movies, but soon after into a really bad B movie. The cinematography was poorly done, with some scenes too dark that you could barely see what was going on. The sound was clear one moment and then they whisper so low that I could barely understand what they were talking about. But I would say the worse of it all was the script itself, not being too original and the dialog was too choppy to make any sense of what the heck is going on. Overall I can not say I am surprised to be disappointed since I did not really know what to expect.
Sean Read
Black Ops Quotes
There are no approved quotes yet for this movie.
Discussion Forum
Discuss Black Ops on our Movie forum!