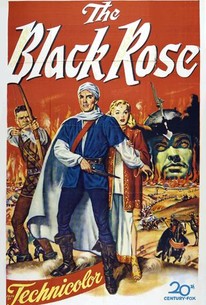 The Black Rose
1950, Adventure, 2h 0m
1 Reviews
250+ Ratings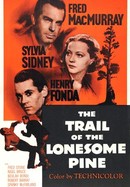 The Trail of the Lonesome Pine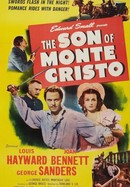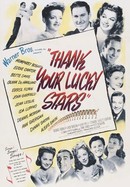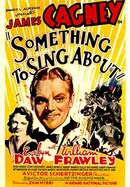 Where to watch
Rent/buy
Rent/buy
Buy
Rate And Review
Movie Info
Following the 13th-century death of his nobleman father, Walter of Gurnie (Tyrone Power) and his confidant, Tristram (Jack Hawkins), join a caravan led by the North African Bayan (Orson Welles) en route to China. Along the way, the beautiful Maryam (Cecile Aubry), known as the Black Rose, begs Walter to take her to England with him. When the warlord Bayan reveals his intention to invade and subjugate China's advanced society, the trio attempt their escape back to England.
Genre: Adventure

Original Language: English

Director: Henry Hathaway

Producer: Louis D. Lighton

Release Date (Theaters): original

Release Date (Streaming):

Runtime:

Distributor: 20th Century Fox
Audience Reviews for The Black Rose
"the black rose" is probably one of tyrone power's worst swashbucklers, perhaps it reveals power's frustration of rehashing another swashbuckler cliche after making his cross-genre attempt in his 1947 film noir "nightmare alley" which was an underappreciated masterpiece. the whole flick seems slumberingly tedious with an unattractive leading lady and a faux eccentric oriental backset. briefly it's a lukewarm swashbuckler. and this review mainly criticizes the condescending bias of old hollywood upon the orient. there're several faux descriptions i would like to point out here: firstly, the time mongolians conquered the world was NOT ching dynasty, but the movie literily dubs the wardrobes of this last monarchy on all the oriental characters, chineses around the mongolian wartime didn't keep pigtail and didn't wear dragon-robes that were for manchurians hundreds of years later. secondly, one scene shows how englishman impresse the mongolians with his amazing light-weighted enlgish bows and kubla khan was considering to imitate it. seriously WRONG. primarily it was chinese who invented the artilleries, bows and theories for manchine guns and tanks. it was mongolians who sent spies to china just to steal the formuli of weapons, then mongols used them to create strong armies to fulfill his ambition for world-domination. when did mongolians or chinese need to inquire an englishman then for bow-making? it was europeans who stole that from mongols. (that was all documented in history channel with actual facts.) thirdly, some 60-something woman once told me that she thinks mongols are hybrids of aryans and chinese (white + yellow), due to their militant aryan blood, so they had the strength to conquer the world. basically today mongolians ARE chinese, and the idea of china had been evolved for thousands of years during this time chineses had been slaughtering each other to vie for king-ship. unfortunately the first time "advanced" western countries saw chinese during manchurian reigh, so the stereotyped image stays forever as if we all wear dragon robe and cheongsam, and old chineses were all indolently corrupted and effeminate opium smokers without the knowledge that britain sold opium to china for compensation of the financial loss from their national tea-drinking consumption since the import of eastern tea leaves inspired the fad of british tea-drinking culture (first aristocrat then bourgeois then the lowly-paid commoners). despite the fact turkey discovered opium but britain spreads it all over china while few of the poets like coleridge also hooked with it. when samuel taylor coleridge consumed opium, it was deemed necessity of aristic musings; chinaman addicted to it, it's vile degeneration within a race. ironically coleridge wrote lengendary poem of kubla khan in his paramount of opium intoxications. funnily. coleridge's "kubla khan" would probably be the first yellow-face camp in history. pardon if my postcolonial angle might sound harsh but i think it's time to voice out the misconceptions people have had and clarify the errors of historical facts. at the stance of recreational values, "the black rose" is poorly made swashbuckler with all the disjointed exotica and its eye candy, the swashbuckler beauty, wasn't that impressionably gorgeous (her voice irritates me) like mareen o'hara or linda darnell. maybe it's a solace that neither of these two lovely actresses got involved in this depressive flop.
See Details