The Black Rose
(1950)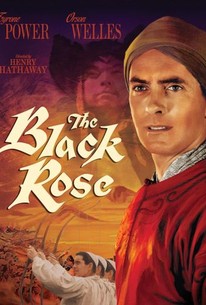 AUDIENCE SCORE
Critic Consensus: No consensus yet.
Movie Info
Partly conceived as a follow-up to Prince of Foxes, 20th Century-Fox's The Black Rose, reunites the earlier film's two stars, Tyrone Power and Orson Welles. Filmed on location in England and Morocco, the story concerns 13th-century Saxon nobleman Walter of Gurnie (Tyrone Power), who, after sparking an unsuccessful rebellion against the Norman conquerors of his homeland, sets out to seek his fortune in the Far East. In the company of his friend Tristam (Jack Hawkins), Walter makes the acquaintance of megalomanic North African warlord Bayan (Orson Welles). Journeying farther, Walter and Tristam arrive in China, where they are treated with deference--so long as they never try to leave. Eventually escaping his Chinese hosts, Walter returns to his native country. Previously renounced by King Edward (Michael Rennie) because of his role in the a Saxon rebellion, Walter is welcomed back with open arms because of all the cultural and scientific wonders he's brought back from China (including gunpowder). The "Black Rose" of the title is the beauteous Maryam (Cecile Aubrey), with whom Walter fell in love while both were the prisoners of Bayan. A bit lacking in terms of spectacular adventure sequences, Black Rose scores points on its star power and splendid Technicolor photography. ~ Hal Erickson, Rovi
Rating:
G
Genre:
, ,
Directed By:
Written By:
In Theaters:
On DVD:
Runtime:
Studio:
Twentieth Century Fox
Critic Reviews for The Black Rose
There are no critic reviews yet for The Black Rose. Keep checking Rotten Tomatoes for updates!
Audience Reviews for The Black Rose
These men are trained to love killing Walter of Gurnie is an Englishman that has been shunned by his country when a new King takes over that feels strongly against his countrymen. The king's belief separated him from his father and they were only reunited by his father's death. Walter leaves England and joins Khan in his mission to conquer the world. As Walter sees Khan's ruthless ways, he'll have to decide if one evil is better than another. "Never talk about important matters where you cannot see who's listening." Henry Hathaway, director of Rawhide, True Grit (1969), Johnny Apollo, Brigham Young, Sunset Pass, and Now and Forever, delivers The Black Rose. The storyline for this picture is interesting and unpredictable. The subplots are fascinating and keeps the film moving nicely. The acting is outstanding and the cast includes Tyrone Power, Orson Wells, Cecile Audrey, Robert Blake, and Herbert Lom. "The chains that bind you are open but I would not leave." I have been a huge fan of Tyrone Power since watching the original Black Swan and he has always reminded me of Cary Grant. This movie is very good and reminded me a little of Sinbad without the great special effects. Overall, this is a fascinating era piece that lacked consistent action sequences. I do recommend seeing this picture if you are a fan of movies from this era. "If there is nothing of value, cut off their hair to make a pillow for my feet." Grade: B
Kevin Robbins
½
"the black rose" is probably one of tyrone power's worst swashbucklers, perhaps it reveals power's frustration of rehashing another swashbuckler cliche after making his cross-genre attempt in his 1947 film noir "nightmare alley" which was an underappreciated masterpiece. the whole flick seems slumberingly tedious with an unattractive leading lady and a faux eccentric oriental backset. briefly it's a lukewarm swashbuckler. and this review mainly criticizes the condescending bias of old hollywood upon the orient. there're several faux descriptions i would like to point out here: firstly, the time mongolians conquered the world was NOT ching dynasty, but the movie literily dubs the wardrobes of this last monarchy on all the oriental characters, chineses around the mongolian wartime didn't keep pigtail and didn't wear dragon-robes that were for manchurians hundreds of years later. secondly, one scene shows how englishman impresse the mongolians with his amazing light-weighted enlgish bows and kubla khan was considering to imitate it. seriously WRONG. primarily it was chinese who invented the artilleries, bows and theories for manchine guns and tanks. it was mongolians who sent spies to china just to steal the formuli of weapons, then mongols used them to create strong armies to fulfill his ambition for world-domination. when did mongolians or chinese need to inquire an englishman then for bow-making? it was europeans who stole that from mongols. (that was all documented in history channel with actual facts.) thirdly, some 60-something woman once told me that she thinks mongols are hybrids of aryans and chinese (white + yellow), due to their militant aryan blood, so they had the strength to conquer the world. basically today mongolians ARE chinese, and the idea of china had been evolved for thousands of years during this time chineses had been slaughtering each other to vie for king-ship. unfortunately the first time "advanced" western countries saw chinese during manchurian reigh, so the stereotyped image stays forever as if we all wear dragon robe and cheongsam, and old chineses were all indolently corrupted and effeminate opium smokers without the knowledge that britain sold opium to china for compensation of the financial loss from their national tea-drinking consumption since the import of eastern tea leaves inspired the fad of british tea-drinking culture (first aristocrat then bourgeois then the lowly-paid commoners). despite the fact turkey discovered opium but britain spreads it all over china while few of the poets like coleridge also hooked with it. when samuel taylor coleridge consumed opium, it was deemed necessity of aristic musings; chinaman addicted to it, it's vile degeneration within a race. ironically coleridge wrote lengendary poem of kubla khan in his paramount of opium intoxications. funnily. coleridge's "kubla khan" would probably be the first yellow-face camp in history. pardon if my postcolonial angle might sound harsh but i think it's time to voice out the misconceptions people have had and clarify the errors of historical facts. at the stance of recreational values, "the black rose" is poorly made swashbuckler with all the disjointed exotica and its eye candy, the swashbuckler beauty, wasn't that impressionably gorgeous (her voice irritates me) like mareen o'hara or linda darnell. maybe it's a solace that neither of these two lovely actresses got involved in this depressive flop.
Veronique Kwak
Super Reviewer
The Black Rose Quotes
There are no approved quotes yet for this movie.