The Black Swan
(1942)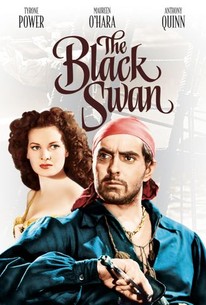 Movie Info
Perhaps unintentionally, the 1942 Technicolor swashbuckler The Black Swan is a bondage fetishist's dream, with hero and heroine Tyrone Power and Maureen O'Hara taking turns being tied up and imprisoned throughout the film's brisk 85-minute running time. Very loosely adapted by Ben Hecht and Seton I. Miller from a novel by Rafael Sabatini, the film casts Power as rogueish, hot-tempered buccaneer Jamie Waring, who considers the day wasted when he hasn't sacked a Spanish galleon or plundered a rich coastal town. Jamie's partner in crime is pirate king Henry Morgan Laird Cregar, an alliance that comes to an end when Morgan is appointed governor of Jamaica. Disgusted by this defection, Jamie considers joining the scurrilous Redbeard George Sanders, but eventually decides to reform his ways when he falls in love with Margaret Denby Maureen O'Hara, the gorgeous daughter of the former Jamaican governor Lord Denby George Zucco. Before the final obligatory sail into the sunset, however, Margaret is kidnapped and manhandled on a seemingly hourly basis, while Jamie is subjected to even more abuse at the hands of pirates and officials alike. Henry King handles the derring-do in Black Swan with commendable sobriety, leaving the story's tongue-in-cheek elements in the capable hands of the cast and the screenwriters.
Rating:
NR
Genre:
, , ,
Directed By:
Written By:
In Theaters:
On DVD:
Runtime:
Studio:
20th Century Fox Film Corporation
Critic Reviews for The Black Swan
Audience Reviews for The Black Swan
Lightsabers? They're only a reflection, an update, but a sure marker of one of the oldest and surest of entertainment outings: the adventure tale. And what could be more thrilling than a knife fight? What about if ya give 'em big knives? And lo, the swashbuckler is born. In this one Tyrone Power (the weakest link here, w/o the dash the role requires), a common, drunken pirate, battles for the reluctant heart of Maureen O'Hara, a fancy Miss Pris lady against a whole slew of dirty, pirating types. George Sanders (the best thing in the movie), Anthony Quinn and Thomas Mitchell lend able, reliable yet unsung support. Big-time old school fun.
Kevin M. Williams
Super Reviewer
In 1942, The Black Swan was probably the greatest thing ever. I'm sure I would've gone to see it every night of the week if I saw this movie nearly 70 years ago. But since that's not the case and I recently saw the superior Adventures of Robin Hood, The Black Swan is merely just okay. The opening is pretty strong and the back and forth between Tyrone Power and Maureen O'Hara (if I had to narrow it down for only one reason for anyone to see this movie it would be her beautiful bitchiness) was fun. Throw in the rest of the cast and some fun action and its worth the watch.
Michael Gildea
Super Reviewer
½
This is one of my favourite pirate movies. It has it all, action, adventure, excitement, drama, romance, even a bit of humour. I loved it.
The Black Swan Quotes
There are no approved quotes yet for this movie.