Blackbelt
(1992)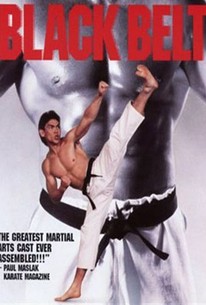 AUDIENCE SCORE
Critic Consensus: No consensus yet.
Movie Info
Don "The Dragon" Wilson plays a martial arts instructor hired as a bodyguard for a pop star who is the target of a psycho hit man. This chop-socky actioner contains profanity, sexual situations, nudity and violence.
Audience Reviews for Blackbelt
½
Although I only gave this movie 2 stars, it should be noted that this is pretty good for a Wilson film in the early 90s. 'Blackbelt' came in the line of what are termed Roger Corman's "Philipino action pictures.' This trend started with the first Blood Fist, and continued throughout the early 90s; starring such actors as Jerry Trimble, Cat Sassoon, and my personal fav here, Don "the Dragon" Wilson. I recently saw this again, not too long ago. When these movies came out back in the day, I couldn't wait. I always loved Wilson's movies, no matter how crappy they were objectively. Here, Don "the Dragon" Wilson plays Jack Dillon, a guy who has seen better days as a cop, and has now settled down and opened a dojo. He is hired to protect Shanna (Deirdre Imershein), a rising pop star who has, among her vast catalogue of songs, a cover version of a song that is very near and dear to the heart of our boy, serial killer John Sweet (played to perfection by the great Matthias Hues, from 'I Come in Peace' and 'Kickboxer 2: the Road Back'). Now, Wilson has to protect her from not only this psycho, but her ex-manager, who has mob connections and likes to eat spaghetti. Not since Showdown in Little Tokyo have I seen so many fingers being severed. Not since 'Spanking the Monkey' have I seen a more engrossing and true-to-life representation of incest. Not since the last Don Wilson movie have I seen so much kickboxing. But this one had me especially in suspense. Will Wilson save the day and deliver his usual brand of slow, but amusingly choreographed kick-boxing fights with other slow, lumbering actors? Will he have another badly lit, slow motion montage/love scene with his skanky co-star, in which they are usually portrayed as performing fellatio on each other with their undies still on? Will your VCR set on fire from the sheer awesomosity factor that is the Don Wilson direct-to-video release? You'll have to rent this and find out.
Jason Anderson
Blackbelt Quotes
There are no approved quotes yet for this movie.
Discussion Forum
Discuss Blackbelt on our Movie forum!