The Blacksmith
(1922)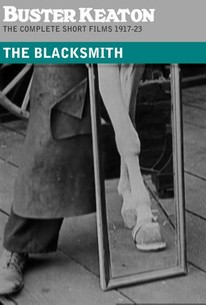 AUDIENCE SCORE
Critic Consensus: No consensus yet.
Movie Info
The homely Longfellow poem about The Village Blacksmith"will never seem the same after viewing this two-reel spoof. (Buster Keaton) is the assistant to the town blacksmith (Joe Roberts), a big, mean-tempered sort. In the early '20s, it was common for a blacksmith to double as a car mechanic, and Keaton is equally inept at both tasks. This short is essentially a string of wonderful gags -- Keaton helps Virginia Fox's horse pick out just the right shoe, and he methodically and hilariously destroys a gleaming new Rolls Royce. By the end of the film, everyone is out to throttle Keaton for his countless blunders, but somehow he still manages to get the girl!
Audience Reviews for The Blacksmith
½
While Buster called this "the dud" it is a great and equally heartwarming 21 minute short that is co-directed by Malcolm St. Clair. It features Joe Roberts as the blacksmith and Virginia Fox as a snobby Horse rider who along with a couple others all seek revenge against Buster who has ruined whatever service he was to provide and wrecking the blacksmith's business. The film has both heart (Buster putting the fancy horseshoes on the white stallion and treating him like store owners would treat high end customers) and gags that are both destructive (Buster unknowingly destroys a Rolls Royce that in real life his in-laws had given him) and also more cartoon-like gags such as the full spin and the hat flipping up and back down on Buster's head showing his surprise reactions. The film to me is a perfect embodiment of all of Buster's skills and his affinity for animals and wonderful ideas that he so beautifully captures on capture and acts out with his films!
Chris Browning
Super Reviewer
Buster's character is unusually stupid in this film, and that aspect turned me off. He should be resourceful! Also, the ridiculous "shock absorber" gag with the horse just isn't funny. Enjoy the clever magnet sequence -- otherwise, this one is mostly weak slapstick.
Eric Broome
Super Reviewer
½
Funny for the most part, but predictable. Overall, it's a so-so movie.
The Blacksmith Quotes
There are no approved quotes yet for this movie.
Discussion Forum
Discuss The Blacksmith on our Movie forum!