Blade: House of Chthon
(2006)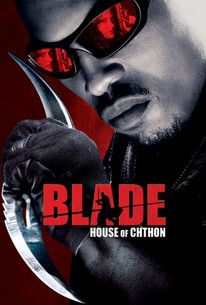 AUDIENCE SCORE
Critic Consensus: No consensus yet.
Movie Info
The most powerful superhero ever to defang the living dead returns for an all-new adventure that was too intense for broadcast television. Blade (Sticky Fingaz) is back, and the Secrets of the Underworld are about to be revealed. But Blade can't defeat the legions of the undead all by himself, and in order to survive he's going to need a little help from Iraq war veteran Krista (Jill Wagner) and weapons expert Shen (Nelson Lee). Now, as Krista gets closer to discovering the true fate of her missing twin brother, powerful vampire Marcus (Neil Jackson) will fight to the death in order to ensure the survival of his blood-drinking brethren. ~ Jason Buchanan, Rovi
Critic Reviews for Blade: House of Chthon
All Critics (3) | Fresh (1) | Rotten (2) | DVD (3)
I am not surprised at all that the series was quickly cancelled, though the pilot on its own makes an entertaining, if lackluster, TV movie.

Sticky Fingaz certainly holds his own here, plus there's plenty of gore to satiate the bloodlust of fans of the genre.

...adds enough gratuitous sex and violence to make us forget for a minute that it really is a television production. (Unrated Edition)

Audience Reviews for Blade: House of Chthon
To me, this one doesn't deserve any stars. Blade was better with Wesley Snipes. Don't get me wrong, Sticky fingaz has always been a good actor in my eyes... but, they should've never done this one, at all.
Odis Frost Jr.
½
It might just be a TV series pilot, but it honestly doesn't make me want to watch more. The pilot is boring, the story is bland, and the action is mild. Blade is more like a side character too. Of course it has to be toned down for Television, but they could at least focus more on the title character and make the story a little more interesting.
Wes Shad
I only watched it because the pilot came in a DVD four pack with the rest of the movies and I was completely expecting it to suck. But you know what? It wasn't all that bad. Not to say it was good. I was surprised to find that my main issue with it is that it was boring. That, and the fact that Blade is played by a fellow by the name of Sticky Fingaz. What the hell is that? But anyway, aside from that, it was pretty dark and serious. But also had some kind of funny parts. It could have used some more action, but I was pretty pleased with what I got. It won't happen any time soon, but I might just stream the rest of the show online someday.
Gary Cecil
Blade: House of Chthon Quotes
There are no approved quotes yet for this movie.
Discussion Forum
Discuss Blade: House of Chthon on our Movie forum!