Blade Runner (The Final Cut)
(1982)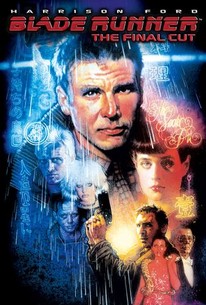 Movie Info
Visually spectacular, intensely action-packed and powerfully prophetic since its debut, Blade Runner returns in Ridley Scott's definitive Final Cut, including extended scenes and never-before-seen special effects. In a signature role as 21st-century detective Rick Deckard, Harrison Ford brings his masculine-yet-vulnerable presence to this stylish noir thriller. In a future of high-tech possibility soured by urban and social decay, Deckard hunts for fugitive, murderous replicants - and is drawn to a mystery woman whose secrets may undermine his soul. This incredible version features the definitive Final Cut of Ridley Scott's legendary Sci-Fi classic.
Critic Reviews for Blade Runner (The Final Cut)
Audience Reviews for Blade Runner (The Final Cut)
Absolutely perfect. Ridley Scott didn't cut corners with this edited version. It's practically flawless and really improves the cult classic's quality.
Charlie 74
I've always struggled this one. I've seen the original cut, then I saw the Director's cut in the 90's and now I've seen the "Final Cut". It's an interesting Sci-Fi Noir. It's really hard for me what to make of this movie. It has very cool special effects for it's time, but then I find myself not really caring what is happening on the screen. I struggle with this one, but I ultimately give it 4 stars.
Jonathan Daege
Simply put, no other film can possibly compare with it's aesthetic. The cinematography combined with an ambient soundtrack provided by Vangelis creates an atmosphere as deep as the plot. Go to any film school and you can expect to spend a good week talking about this movie. Despite being a product of 1982, it hasn't aged a minute and modern contemporaries fail miserably in contrast. There are precious few movies of this caliber and I know several people who claim it as their all time favorite film. It's certainly in my top 3. This isn't a star wars type of science fiction. Ridley Scott said he wanted this movie, "Dripping with graphics" (of the non-digital variety) and did he ever deliver! While other films show a futuristic set seemingly built the day before, Blade Runner shows an incredibly "lived in" world. Rife with the imperfections of human nature, yet gorgeous in it's moments. Words can't truly describe the depth of this film. A once in a lifetime movie truly. It holds the crown to most sampled movie in music, which should come as no surprise to any who have seen it. If you haven't seen Blade Runner (I've seen it the better part of a hundred times), you're in for a wonderful treat. Sit back...and soak up all that this legendary film has to offer!
Tim Bogle
Blade Runner (The Final Cut) Quotes
There are no approved quotes yet for this movie.
Discussion Forum
Discuss Blade Runner (The Final Cut) on our Movie forum!