Blaze
(1989)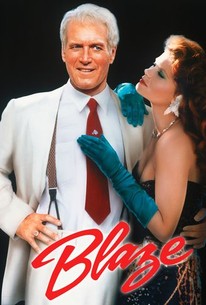 Movie Info
Blaze is a comic-strip re-telling of the curious late-1950s relationship between famed striptease artist Blaze Starr (Lolita Davidovitch) and Lousiana governor Earl Long (played in gorgeously flamboyant fashion by Paul Newman). Their romance is counterbalanced with the story of Long's efforts to win voting rights for Louisiana's black citizens. The governor's political enemies ruin his chances at re-election, then try to put him out of the way permanently with a trumped-up insanity charge. But with faithful Blaze at his side (and in close proximity to other portions of his anatomy), Long confounds his foes by winning a congressional seat. On the eve of this triumph, Earl Long dies, bringing this boisterous story to a sobering conclusion. Since the film is based on Blaze Starr's own reminiscences, one might prepare oneself with several grains of salt. The real Blaze Starr shows up early in the film as a stripper named Lily.
Critic Reviews for Blaze
All Critics (10) | Top Critics (1) | Fresh (8) | Rotten (2)
Supposedly based on fact regarding the relationship of Louisiana's Gov. Earl Long and his stripper girlfriend, this is noted mostly for the offbeat casting of Paul Newman.
March 15, 2009 | Rating: 3/5
The latter-day Paul Newman is at his rascally best here.
July 25, 2002 | Rating: 3/5
Audience Reviews for Blaze
½
Paul Newman is good value as the Governor of Louisiana, Lolita Davidovich is a little weaker in her title role.
Dean McKenna
Super Reviewer
Blaze Quotes
There are no approved quotes yet for this movie.