Blaze
(1989)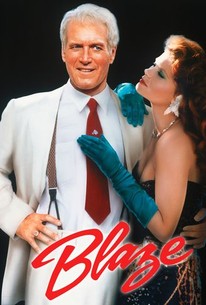 Movie Info
Blaze is a comic-strip re-telling of the curious late-1950s relationship between famed striptease artist Blaze Starr (Lolita Davidovitch) and Lousiana governor Earl Long (played in gorgeously flamboyant fashion by Paul Newman). Their romance is counterbalanced with the story of Long's efforts to win voting rights for Louisiana's black citizens. The governor's political enemies ruin his chances at re-election, then try to put him out of the way permanently with a trumped-up insanity charge. But with faithful Blaze at his side (and in close proximity to other portions of his anatomy), Long confounds his foes by winning a congressional seat. On the eve of this triumph, Earl Long dies, bringing this boisterous story to a sobering conclusion. Since the film is based on Blaze Starr's own reminiscences, one might prepare oneself with several grains of salt. The real Blaze Starr shows up early in the film as a stripper named Lily.
Rating:
R
Genre:
, ,
Directed By:
Written By:
In Theaters:
On DVD:
Runtime:
Studio:
Touchstone Pictures
Audience Reviews for Blaze
½
150815: Based upon a true story, Blaze is a brief glimpse into the overlapping lives of two unique people, one a politician and one an adult entertainer. It's a love story, comedy and political satire all set in the racially charged late 50s. Well worth watching once, and can see myself coming back to it again. Newman is fantastic as Earl Long.
John Redshaw
A couple of friends of mine and I went to see this movie on New Years Eve 1989 at the original movie theaters outside of Crossroads Mall in Oklahoma City. They were new then but are dollar theaters now that they built the new stadium seating theaters. It's a good movie. They played fast and loose with the historical facts such as they left out Earl Long's wife. The character wouldn't have been very sympathetic if we saw that he was cheating on his wife. The story is less about Blaze Starr than it is about the last two years of Earl Long's life. Although Lolita Davidovich is hot and she does have some topless scenes, you see very little of Blaze Starr's stage act. She's probably not as well endowed as the real Blaze Starr. This is really the story of the last days of old style American politics in the early years of television politics. There was a time when politicians were colorful and mudslinging was acceptable. Before television there was little entertainment in rural America. Going to listen to a political speech or debate was entertaining. Politicians brought plenty of free food and drinks to a political rally along with bands and other entertainment to draw in the crowds. Today politicians have to have a good TV presence and be politically correct in their speech. Gailard Sartain from Tulsa is in this movie as one of Earl Longs advisors. The best line in the movie is "It may not fly but it will surely flap its wings."
Donald White
½
A bawdy and audacious tale of politics and scandal, Blaze delivers a good love story and a brave and marvelous character turn by Paul Newman.
Lee Mayo
Blaze Quotes
There are no approved quotes yet for this movie.