Bleed
(2002)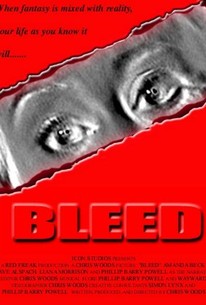 AUDIENCE SCORE
Critic Consensus: No consensus yet.
Movie Info
A naïve young girl desperate to fit in with her new boyfriend's tightly knit crew learns that membership may be deadly in this horror entry starring scream queen Debbie Rochon. Upon arriving at a party with her new boyfriend, Shawn (Danny Wolske), desperate-to-fit-in newcomer Debbie (Rochon) learns that the friends have formed a mysterious brotherhood nicknamed "The Murder Club." As Debbie accepts her invitation to join the mysterious club, a murderer who seems to take the group's name to heart begins killing off members one by one.
Rating:
R
Genre:
Directed By:
Written By:
In Theaters:
On DVD:
Runtime:
Studio:
Shadow Films
Critic Reviews for Bleed
There are no critic reviews yet for Bleed. Keep checking Rotten Tomatoes for updates!
Audience Reviews for Bleed
Seriously if you saw this and liked it there is something seriously wrong with you. IF you were in the same situation and did the same things... I'd have to give you a medal. FOR BEING THE BIGGEST IDIOT EVER! Another movie that is awesome if you make fun of but sucks hardcore.
Nick Arca
OMG....I've actually seen this, I still can't believe it. My firends and I rented it thinking it was cheap, low budget, B-grade horror. Turns out, it's cheap, low budget, soft core porn....with stabbings.
Michael Hughes
When you put this DVD into your player and hit "play," you will experience a brief moment of silence and see a black screen as the laser is guided to the correct starting point in the center of the disc. CHERISH THIS MOMENT. Make sure you have some Tylenol or something (preferably PM's so you can fall asleep), because you're going to have a massive headache once this movie starts. Starring a bunch of big-breasted girls and with an opening that actually made me chuckle a bit, I thought I'd be in for a good time. Sure, the opening sequence was a WEE bit awkward and most of the jokes fell flat and it seemed like this was going to be a Scream ripoff (by the way, my sole chuckle was from Julie Strain's final comment in this scene). But then I knew there was trouble... the opening sequence had a terrible rock song. During this terrible rock song, I looked over the DVD Chapter titles and saw things that said "TOPLESS IN THE BACKYARD!" and "BETTER THAN SEX!". I knew what the selling point of this movie was going to be. And that's the sad truth: The ONLY good thing about this movie is the attractive cast. Other than that, it's a sadly routine slasher film that throws in an "innovative" concept about murder clubs, which ends up being fake anyway. So, the whole movie then points in another direction to try to be confusing and this huge mystery, but it all just adds up to not being interesting at all and leaves you feeling like you don't care for any of the characters. I mean, when the main character of the movie is revealed to have murdered an innocent woman, can you really feel ANY sympathy towards her when she's in fear for her life? The Scream influence is prevalent throughout, with a ghost face killer and some really terrible jokes. We're also treated to scenes of the main character talking to her mom and dad (Lloyd Kaufman! The only other cool part of the movie!) about an abortion or something. Uh. Yeah... This isn't a "so-bad-it's-good" movie, it's just BAD. Someone compared this to a Troma film, but... you know, most any film that comes from Full Moon (or its offshoot, as this film proves) is horrible. NOT horrible in a Troma sense -- I've seen many Troma films, and I can honestly say they all offer something, ANYTHING that you can walk away with and tell your friends about later. However, this film has pretty much nothing at all enjoyable about it. Beware.
Julian Ramirez
Discussion Forum
Discuss Bleed on our Movie forum!