Blessed by Fire (Iluminados por el fuego)
(2007)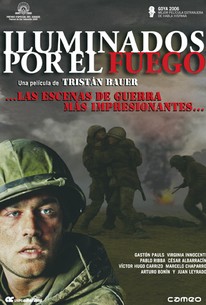 Blessed by Fire (Iluminados por el fuego) Photos
Movie Info
The near-death of an old friend forces a man to look back at a painful chapter in his life in a wartime drama from Argentinean filmmaker Tristan Bauer. Esteban (Gastón Pauls) is a writer edging into middle age who has received word that Vargas (Pablo Ribba), who served with him in the Argentine Army during the 1980s, has attempted to commit suicide and is now in a coma. The news floods Esteban's mind with memories of their days in the Falkland Islands war of 1982. Esteban, Vargas, and Juan (Cesar Albarracin) were all new recruits who knew next to nothing about battle when they were sent to the rocky islands to fend off a possible invasion by the British military. Juan and Vargas both have more on their minds than imminent battle -- Juan worries about his young son at home, while Vargas left for the islands on bad terms with both his parents and his girlfriend. As the soldiers struggle to pass the time while waiting for the seemingly inevitable war to start, Esteban, Juan, and Vargas capture and roast a sheep; Vargas is severely punished for his part in the sheep-napping, and is on emotionally shaking ground when the British Navy begins raining death upon the ill-equipped Argentineans. Iluminados por el Fuego (aka Blessed by Fire) was named Best Narrative Feature at the 2006 Tribeca Film Festival.
Critic Reviews for Blessed by Fire (Iluminados por el fuego)
Audience Reviews for Blessed by Fire (Iluminados por el fuego)
½
This Argentine film about the Falklands War and its aftermath is largely unbiased and focuses on the tragedy of war and its traumatising effects. It is well made and acted with realistic action sequences and, except for a somewhat anomolous voiceover tagged on the end, successfully avoids politics and nationalism. Recommended.
The Shrewlord
Super Reviewer
I like watching anti-war movies trouble is sometimes they are too bloody especially the ones based uopn real events. Heartbreaking sometimes.
Blessed by Fire (Iluminados por el fuego) Quotes
There are no approved quotes yet for this movie.