Blind Detective (Man Tam)
(2013)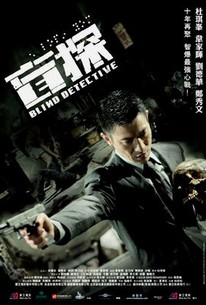 Critic Reviews for Blind Detective (Man Tam)
Audience Reviews for Blind Detective (Man Tam)
½
Blind Detective, from Johnnie To, meshes together two genres that seem as if they aren't made for each other.
With a story over 2 hours which displays a hybrid of a romantic comedy and a crime thriller, Blind Detective is quite the viewing. On one hand, it's hard to take seriously, while on the other hand, it's meant to be taken seriously.
The over the top scenes and the playful acting of the romantic comedy somehow manages to share screen time with the investigative crime scenes. There really isn't much in the way of action, but the concept of the story is intriguing enough to hold attention.
Andy Lau and Sammi Cheng do have solid chemistry together, although the overacting is a bit of an annoyance. The rest of the cast falls into the shadow of the two leads.
Blind Detective isn't a unique masterpiece; however, it is watchable for what it is.
Blind Detective (Man Tam) Quotes
There are no approved quotes yet for this movie.