Blind Spot: Hitler's Secretary
(2002)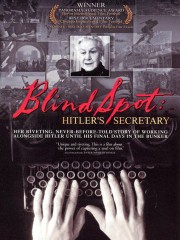 Blind Spot: Hitler's Secretary Trailers & Photos
Movie Info
In 1942, 21-year-old Traudl Junge, looking for work, found a job as a personal secretary to a prominent political figure. That figure was Adolf Hitler, and until the collapse of the Third Reich in 1945, Junge worked by Hitler's side at his home, his office, and in the field; she even was on hand to take dictation as Hitler prepared his last will and testament just days before his death. Junge remained silent about her years with the Nazi overlord until filmmaker Andre Heller persuaded her to share her story with the world. Blind Spot: Hitler's Secretary records Junge as she wrestles with her recollections of Adolf Hitler, confronting her anger and remorse over serving a man she now sees as evil, and dredging up memories which have faded with the passage of time. As fate would have it, Junge died only a few hours after Blind Spot received its premier at the Berlin Film Festival in February, 2002.
more
Cast
News & Interviews for Blind Spot: Hitler's Secretary
Critic Reviews for Blind Spot: Hitler's Secretary
Audience Reviews for Blind Spot: Hitler's Secretary
A fabulous documentary. A very unique perspective on one of the most detestable individuals in history.
½
Or The One Where Hitler's Secretary... Wait, Does The Cast List On Flixster Include James Franco... That Has To Be A Mistake, Right?

For a film with absolutely nothing else except for text, subtitles, and an interview, Blind Spot is quite engaging. It's probably due to the fascinating subject material, and the ability of Traudl Junge to tell her story. Throughout the film you get the sense that Junge is struggling to tell her story in a way that doesn't victimize her, but also doesn't villify her. But she need not worry, because directors Andre Heller and Othmar Schmiderer do a fantastic job of revealing the facts of the story in a fashion that characterizes Junge as a woman who got in over her head.

It's a strange thing to watch a movie where Hitler isn't simply treated as a demon. In fact, Junge almost seemed to hold a form of admiration for him. Obviously she saw him as a monster, but at the same time, she knew the man as well. And at some point in her life, I think she enjoyed the friendship of this man.

Thankfully, Junge's story is fascinating enough to keep us interested in what is otherwise a rather dull film. I appreciate the idea of a minimalist approach here, but I think some visuals added to the interview might have helped. Sure, there didn't need to be a lot of context to set it up, but something might have helped. I often found myself slipping in and out of focus, but overall Junge's story will pull you back in even when the filmmakers can't.
Discussion Forum
Discuss Blind Spot: Hitler's Secretary on our Movie forum!
News & Features