Kaidan nobori ryu (The Blind Woman's Curse)
(1971)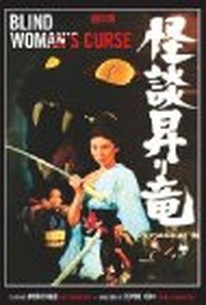 AUDIENCE SCORE
Critic Consensus: No consensus yet.
Movie Info
Akemi and the man of her clan confront their opponents; Akemi delivers a sword thrust to kill the opponents' leader, and Aiko, his daughter, tries to interpose herself, suffering a glancing blow to her eyes, thus cutting her badly, and blinding her. Amid the ensuing fight, no one notices that a black cat laps the young woman's wound. Years later, revenge between the two clans continue, plus added dissension amongst Akemi's people, leading to more deaths. A new member comes to help them, but she is a strange woman - and blind. The curse of the blind woman is about to fell on the dragon-lady.
Rating:
NR
Genre:
Directed By:
In Theaters:
On DVD:
Runtime:
Critic Reviews for Kaidan nobori ryu (The Blind Woman's Curse)
All Critics (1) | Fresh (1) | Rotten (0)
"Blind Woman's Curse" will let you see a bit of what made cult fav Meiko Kaji so popular. She's beautiful and deadly.

Audience Reviews for Kaidan nobori ryu (The Blind Woman's Curse)
½
I went into this perhaps expecting something a tad sleazier, so I might've been let down by the plot, which involves a female Yakuza boss taking on her rivals, and while it's watchable, I think I've enjoyed other films with the same lead a bit more. Rental?
Bill Bryant
½
I have come to claim the life of your leader. Akemi is the leader of a female clan. While striking down a rival clan leader as a youth she accidentally slices his daughter's eyes causing her to go blind. A strange black cat comes to the child's aid and begins the blind girl's return to power and path to revenge. Akemi has to overcome numerous clans trying to take advantage of the fact her group is all females. Can she overcome the rival clans and the blind female youth? "By the sound that made you must have broken five teeth." Teruo Ishii, director of The Hit Man, Blind Beat vs. Dwarf, Horror of a Deformed Man, The Joy of Torture, Queen Bee and the School of Dragons, and Executioner, delivers Blind Woman's Curse. The storyline for this film is fairly standard for the genre but contains fantastic characters you want to root for. There are some strange supernatural elements that seemed unnecessary but the action and acting is marvelous. The cast includes Meiko Kaji (Lady Snowblood), Hoki Tokuda, Makoto Sato (Hidden Fortress), and Yoshi Kato (Rika). "Damn it, you made me stop mid piss." I recently obtained this movie for my wife (it was on her wish list). We are both fans of the samurai genre and the old Pinky Violence pictures so this film grabbed our attention. This film did have several aspects that fell in line with some of those great films, but the super natural elements kept awkwardly changing the pace of the film. Overall, this is worth seeing if you are a fan of Lady Snowblood or Female Prisoner pictures but may be a step down from those films in terms of greatness. "We've got to serve lots of men at once." Grade: B-
Kevin Robbins
½
Phantasmagorically incoherent. Baka!
Bob Stinson
Super Reviewer
Discussion Forum
Discuss Kaidan nobori ryu (The Blind Woman's Curse) on our Movie forum!