Il Cieco
(1971)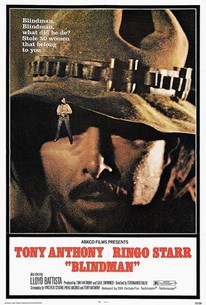 AUDIENCE SCORE
Critic Consensus: No consensus yet.
Movie Info
A sightless gunslinger and his "seeing-eye" steed is in charge of safely transporting 50 mail-order brides to an isolated Texas town. Unfortunately, a group of Mexican bandits have their own designs on the women. This comical Italian western follows the attempts of the blind hero to rescue them. By the time he gets there the women have decided that they have had enough of all men.
Critic Reviews for Il Cieco
There are no critic reviews yet for Il Cieco. Keep checking Rotten Tomatoes for updates!
Audience Reviews for Il Cieco
½
This is one of those movies that is just plain great. I would recommend this movie to anyone, not just spaghetti western fans. Tony Anthony is great in this movie. This is the second Anthony spaghetti western that I have seen, and the other one (A Dollar Between the Teeth) is incredible also. After seeing this film, I am convinced that Tony Anthony deserves more recognition as a spaghetti western star than he has gotten. He belongs right up there with Nero, Gemma, Eastwood, and Milian (no one comes close to Lee Van Cleef). His character in this film is one tough hombre. He really takes a beating, but always returns to create Hell on Earth for his enemies. He has a lot of great lines in this movie too. The movie really stretches ones suspension of disbelief when the blind man is able to ride a horse to Mexico, and when he exhibits his uncanny ability to aim a gun, but this is such a high-quality film that it manages to pull it off with ease. The music score is excellent -a great classic spaghetti western sound with a little bit of sitar thrown in. Besides being a spaghetti western, this film also borrows some elements from exploitation movies, (lots of scantily clad and naked women, women behind bars, etc.) but manages to do it without sacrificing the quality of the movie. Fans of both genres should be especially pleased with this film. This is a must-see for spaghetti western fans, and I highly recommend it to anyone who enjoys movies that are somewhat off-beat, and very well made. 3 1/2 stars 5-31-13
Bruce Bruce
Super Reviewer
Music fans will be curious about "Blind Man" because ABKCO mogul Allen Klein is co-producer and Ringo Starr is in the cast. But really, the film would be no better or worse if others had filled those roles. "Blind Man" comes from the heyday of spaghetti Westerns and has the genre's standard scenario: a mysterious, underdog loner pitted against a large band of cackling desperados. The main twist is that our unnamed hero is sightless and only gets by with a seeing-eye horse blessed with navigational powers. He does shoot well, thanks to his other senses' eerie acuity, but he may require someone to point him in the right direction first. Another quirk is that, rather than seeking bodily vengeance or a stash of gold, he pursues a more unusual prize: 50 curvy beauties who have been promised as brides to some Texas miners. The blind man was contracted to make the sale, but the girls have been stolen away. Yes, the story essentially depicts them as disputed cattle. You may sense this is not an ideal movie for feminists. Starr is the head villain's younger brother, sporting a Mexican accent that's just slightly more convincing than his "Emmanuel is good boy" turn in 1968's "Candy." Oddly, his shaggy "Blind Man" character reuses that film's name. This Candy's weakness is the innocent nymph Pilar, who also has been abducted. His naive love for Pilar sets him apart from the other bandits and makes him more sympathetic. (Hey, we can forgive him for viciously stabbing an old man, right?) Warning to Beatles fans: He only has the fourth or fifth largest part, and is gone from the film well before it ends. Lead actor Tony Anthony spent most of his career in Westerns, but he's not a particularly good fit for the part. Recalling Bobby Sherman more than Clint Eastwood, he comes off like a TV soap-opera hunk dirtying himself up to win credibility. His not-so-macho character defies formula by needing help from others (especially a wacky general who keeps calling him a "goddamn crazy gringo") and his language can be intentionally anachronistic (two memorable lines: "Domingo, you're f*cked" and "When a woman's got you by the short hairs, boy, you're done"). The film's other virtues include a good ending which somewhat balances the previous missteps, a fight where the woman tries to win by chomping into a man's crotch ("Goddamn bitch bites!" he grumbles) and an exotic wedding ceremony for a dead man that seems imported from a whole different culture (Arabia?). Oh, and then there's the bewildering scene where the would-be brides temporarily escape their captors and flee town. Just imagine 50 "Playboy"-ready women, barefoot in sackcloth gowns, scampering through the desert as armed outlaws pursue them on horseback, picking them off like buffalo. Wow. Even the humans in "Planet of the Apes" were treated better. (And why are they shooting the girls, since they're neither sellable nor screwable if dead?) Of course, the music is always crucial in these films, and sorry to say that the score is just the typical, Morricone-descended pastiche of horns, electric guitar, animalistic grunts and pounding drums. A dash of Indian instrumentation sneaks in for extra spice, but the themes just aren't so memorable. For this and other reasons, "Blind Man" seems too much like an inferior clone of better films. It's a fun ride, but look to Sergio Leone if you want something with more depth.
Eric Broome
Super Reviewer
Zatoichi goes to the west, even one of the tracks from the soundtrack is called that way. Blindman doesn't have the charisma of Ichi for sure, and he comes more as a smug ass, which sometimes works and sometimes it doesn't. The bad guys are hardly memorable, aside from Ringo who goes out a bit too soon in the movie. This could have been better with some consistency, Blindman is either too dumb, or too much of an asshole to really find him interesting, or likeable at all. There's also a bit too misogyny going on here, way more than in your average SW.
Tsubaki Sanjuro
Super Reviewer
Il Cieco Quotes
There are no approved quotes yet for this movie.