Blitz
(2011)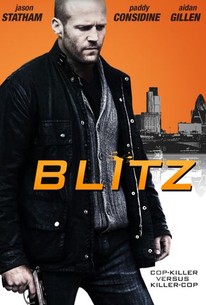 Movie Info
A fast-paced thriller set in contemporary London, "Blitz" reflects the challenges faced by a group of police officers working in a modern, multi-cultural society. A raw, gritty tale of moral ambiguity, outsiders and the sacrifices the police make to keep crime off British streets.
Audience Reviews for Blitz
½
An explosive, hard-boiled and razor-sharp edge of your seat thriller. It`s dark, compelling, rich in character development and wickedly well-crafted. An insanely cool adrenaline-rush from start to finish. This is one hell of an awesome movie It`s frequently entertaining with it`s great story and it`s trio of powerhouse performances. Jason Statham, Paddy Considine and Aidan Gillen have never been better. Statham explodes with raw power and kinetic energy to his electrifying performance, he proves once again and more than ever that he`s not just a stellar action-hero but a stellar movie star. Considine is strong, intense and terrific. Considine and Statham command the screen with their star power. Gillen is tremendously evil, he`s one of the most compelling and sadistic movie villains to hit the screen in years. A sizzling and hard-core thrill-ride of a movie that's just a knockout. It`s wild, heart-pounding and powerfully unforgettable film. A real winner. This movie is really gritty, intense, down and dirty. It hits you hard.
Rather thick British in this film (I used the subtitles). It is a satisfying cat and mouse chase, with a really nice payoff at the end. There were some bits where the story could have been a bit tighter, but the characters were so likable, that I forgave them. It is a bit violent, not gory, but hard hitting with sound effects that are 'cringeingly' real. There is rarely a dull moment, and even the slower pace sections have an energy to them that makes you wonder what's coming up next. Good film!
Cynthia S.
Super Reviewer
Detective Sergeant Tom Brant: A word of advice, girls. If you're picking the wrong fight... at least pick the right weapon.  "Killer-Cop Versus Cop-Killer" Blitz is a traditional cop thriller. There's nothing here that is new or groundbreaking. It's all pretty standard when you look at movies that populate the genre. As it is, Blitz is just an average thriller at best. Some scenes were cool, but most of them were just the same old, same old. If the movie did anything right, it was putting Jason Statham in the lead. He can always take an average action thriller and make it easier to watch. A tough as nails, rule breaking cop is trying to find a cop killer. From that sentence, you know exactly what you're in for. The rule breaking cop cliche in these type of movies, has been around forever. Since Harry Callahan, these characters have either intrigued us or made us laugh at how cliche they really are. Tom Brant made me kind of do both. I was intrigued just because of Statham and his screen presence, but I also had to laugh at all the extra crap that was thrown into his character. He beats the shit out of criminal, he drinks, he defies authority, and the dialogue that comes out of his mouth could sometimes rival that of a Stallone character like in Cobra. Blitz definitely isn't the worst movie in its genre, but it will probably do little to excite you, if you've seen more than three movies like it. I, myself, have. So, all this was a movie that sounded thrilling with all the loud noises, but ended up being nothing special. I still don't think Statham has appeared in his best movie. Sure, his early films with Guy Ritchie were good, but if you give this guy a great concept thriller and let him run with it; it could be great. He deserves better films than ones like this and Killer Elite. He's a much better than average action actor, and it's about time his films start reflecting that.
Melvin White
Super Reviewer
Blitz Quotes
| | |
| --- | --- |
| Brant: | A word of advice girls... If you're picking the wrong fight, at least pick the right weapon. |