Blonde Ice
(1948)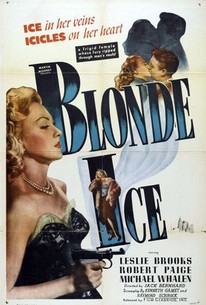 AUDIENCE SCORE
Critic Consensus: No consensus yet.
Movie Info
In this bizarre, rarely seen melodrama, a socialite gets her jollies: the media attention she craves and extra cash by murdering her husbands and many boy friends.
Rating:
NR
Genre:
, ,
Directed By:
Written By:
In Theaters:
On DVD:
Runtime:
Studio:
VCI
Audience Reviews for Blonde Ice
This is a recovered Film Noir and its not a bad story. About a women who is only interested in Men's money and the fame that comes along with it. The day she marries a wealthy gentlemen right after the wedding ceremony she is lip locking with a old boy friend on the balcony. While on her honeymoon her husband finds a letter she has written to her boy friend, oops honeymoon is over, husband ret7urns home leaves his cheating bride there, secretly she returns home to kill her husband and basically frames the old boyfriend, and its just the start. Pretty risky story for 1949, and not much has changed in all those years as this gal fits a girl that I knew in the 1990 time frame. Even though restored still pretty poor quality. 3 Stars
Bruce Bruce
Super Reviewer
½
If you can accept the plot of a woman marrying multiple times, killing off her grooms one by one, then THIS is for you. Many love this lately discoverd film noir and proclaim it an exciting departure from male dominated noir. A society reporter keeps herself in the headlines by marrying a series of wealthy men, all of whom die under mysterious circumstances. Personally, I gave up on this slow paced adoration of a gal that has nothing but men drooling over her in an apparently mid-sized town. If it's as though she is the only woman on earth as she twists their minds around her finger to do what she wishes. Due to the lack of recognizable acting talent (ie no big names), you can relegate this one to the dustbin of cinema history. On the other hand, if you like seeing a female lead make men grovel at every turn, watch this one for sure. See the entire film at: http://www.archive.org/details/BlondeIce1948 One critic wrote: "The blonde in the title is one of the most chilling Femme Fatales you'll ever see on screen. Leslie Brooks is excellent as a woman with a strong hatred of men, based on her father's desertion, which made her mother a hard working lady. There are times in the film when I wanted to feel sorry for her, but that emotion quickly turned to fear & dislike." NOTES about the film: 1 Thought lost since the early 70's, BLONDE ICE tells the bizarre tale of a beautiful society columnist who's desire for money and position turn her into a serial killer--a story most Hollywood studios of the 1940's wouldn't touch! 2 The tagline "ICE in her veins-ICICLES in her heart" perfectly describes Claire Cummings as she eagerly seduces rich and powerful men. This recently discovered "B" film gives new meaning to the phrase "willing victims" and shows what film noir on a tiny budget could look like. 3 The forerunner of 1987's Black Widow (Theresa Russell, Debra Winger), Blonde Ice features B actors in a B film noir. Leslie Brooks plays the title character, a newspaper columnist who marries for money and makes sure she gets the dough she's due from her marriages as soon as she can. 4 One of the most interesting things about this film is the possibility that noted B director Edgar Ulmer (Detour, Bluebeard, Strange Illusion) may have written the script for the film under its original title, Single Indemnity. The intent, no doubt, was to play off the huge success of the A noir Double Indemnity, released four years earlier. But the releasing studio didn't cotton to this blatant title rip-off and threatened suit. Hence the title change to Blonde Ice. Cast Complete credited cast: Robert Paige ... Les Burns Leslie Brooks ... Claire Cummings Hanneman Russ Vincent ... Blackie Talon, the Pilot Michael Whalen ... Stanley Mason, Attorney James Griffith ... Al Herrick Emory Parnell ... Police Capt. Bill Murdock Walter Sande ... Hack Doyle John Holland ... Carl Hanneman Mildred Coles ... June Taylor Selmer Jackson ... District Attorney Ed Chalmers David Leonard ... Dr. Geoffrey Kippinger Director: Jack Bernhard Writers: Kenneth Gamet (screenplay), Whitman Chambers (novel) Runtime:73 min Sound Mix:Mono (RCA Sound System) Color:Black and White
monsieur rick
A bizarre tale indeed, but an interesting one too.
Blonde Ice Quotes
There are no approved quotes yet for this movie.
Discussion Forum
Discuss Blonde Ice on our Movie forum!