Blood, Boobs & Beast
(2007)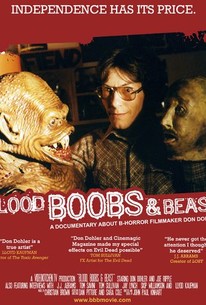 AUDIENCE SCORE
Critic Consensus: No consensus yet.
Movie Info
Blood, Boobs and Beast tells the compelling story of Don Dohler, whose movies have been called everything from oddly brilliant to some of the worst films of all time
Critic Reviews for Blood, Boobs & Beast
There are no critic reviews yet for Blood, Boobs & Beast. Keep checking Rotten Tomatoes for updates!
Audience Reviews for Blood, Boobs & Beast
Dohler is a modern day Ed Wood. A man with a passion for movie making but without the resources, and some say talent, to make them. Over 30 years he has cobbled together some of the cheesiest low-budget horror movies ever made, but no matter what you think of him he's made movies people watch and love. This documentary shows something of the man, his passion and the people he has inspired. A must see for low-fi movie fans.
Mark Nash
½
Somewhat interesting documentary of a low budget film maker. Extolling the virtues of a maker of low quality movies seems to be the goal in this long tribute. A documentary film about modest film-maker, director, cameraman Don Dohler. Clips from films attest to the B grade status, low budget and cult fan favorite. The formula is in the title for his films, they all should have blood, boobs and a beast to be successful. I post this review as a public service to anyone who might like to explore this man's work. Director: John Paul Kinhart Stars:J.J. Abrams, Skizz Cyzyk and Don Dohler Available for viewing at www.hulu.com anytime!
monsieur rick
Blood, Boobs, & Beast is an interesting documentary on the film career of low budget horror director Don Dohler. Always wanting to be a filmmaker, Don finally went after that dream after a chance encounter with a robber with a shotgun to Don's head (thus leading Don to reevaluate his life). With that, Dohler set out to direct his small array of low budget sci-fi/horror films including such cult hits as The Alien Factor, Fiend, and Nightbeast (a personal favorite of mine). Plenty of people who grew up around or idolizing Dohler, as well as Dohler himself, give some poignant anecdotes about the films and his family life around the films. There's also an interesting theme of how Dohler's movies would be nothing as well as financial bombs if they did not incorporate 3 important components that distributors and producers were looking for (and still do to this day): blood, boobs, and beasts. Throughout the documentary, there is a small side story that captures the ups and downs of Dohler and partner Joe Ripple making Don's final film Dead Hunt. A couple of interesting moments include an appearance from J.J. Abrams (creator of Lost, Cloverfield, and the newest Star Trek) who was the composer (at age 15) for Dohler's Nightbeast film, as well as interviews with two Dohler fanboys who hilariously wear different head pieces each time they show up on screen. I kinda wish there was more story towards the end where Dohler is battling cancer, but emotional effect was traded in for harsh realism. Dohler was a very simple and conservative person, and will be missed. Exceptional documentary.
Jason Duron
Blood, Boobs & Beast Quotes
There are no approved quotes yet for this movie.
Discussion Forum
Discuss Blood, Boobs & Beast on our Movie forum!