Blood of Dracula's Castle, (Castle of Dracula)
(1969)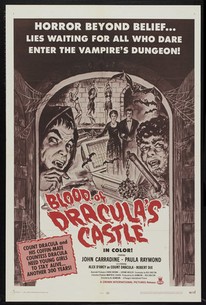 AUDIENCE SCORE
Critic Consensus: No consensus yet.
Blood of Dracula's Castle, (Castle of Dracula) Photos
Movie Info
A vampiric couple reside in an eerie castle where they bleed bound beauties for their food supply in this horror/thriller.
Rating:
NR
Genre:
Directed By:
Written By:
In Theaters:
Runtime:
Studio:
Crown International Pictures
Critic Reviews for Blood of Dracula's Castle, (Castle of Dracula)
There are no critic reviews yet for Blood of Dracula's Castle, (Castle of Dracula). Keep checking Rotten Tomatoes for updates!
Audience Reviews for Blood of Dracula's Castle, (Castle of Dracula)
"Blood Of Dracula's Castle" is a 1969 film from Crown International Pictures directed by Al Adamson, and Jean Hewitt. The story takes place at the castle of Count and Countess Townsend, really Count Dracula and his wife. They lure a young women to their home for a continued blood supply. When a young man inherits the castle and appears with his young girlfriend the Count and Countess set out to chase away the couple. The story of "Blood Of Dracula's Castle" is a bit of a train wreck with very little true attention paid to detail as the story falls apart. John Carradine, Paula Raymond, Alexander D'Arcy, Robert Dix, Gene Otis Shayne, Jennifer Bishop and Ray Young all star in the film which gives a nice nostalgia for some of us when watching "Blood Of Dracula's Castle" but not enough to really warrant any fan's of Dracula's to embrace the film completely. Dracula and his wife are practically neutered and remind me of the time the Flintstone's met Count Dracula. The addition of Mango, and a homicidal maniac to the film should have brought with them more blood but the only red that flows in this film mostly languishes in the glasses of Count and Countess Townsend. All this makes for a dull viewing experience. The effects and soundtrack for "Blood Of Dracula's Castle" are also neutered in this one. For a film that claims to be exploitation horror I found no real show of exploitation save the bevvy of beauties chained to the castle wall. The deaths are almost none-existent and for the most part implied so I don't get the exploitative aspect branded to this film. The sound is very 1969 cheap-o that screams love-me-late-night- horror-host so there is no real reason to even bother with addressing that element of "Blood Of Dracula". Embrace this one if you wanna, I justify having it by my unending love of even crappy old movies and John Carradine. New horror fans just no that this is a 1969 Hammer film wanna be so don't expect much of anything here.
rick russ
½
It's pretty goofy and fun, but there isn't enough going on to sustain the plot. The characters are decent, some better than others, and the story is alright enough. But it slows down at times, and the ending is rather bland. Still fairly enjoyable at times.
Wes Shad
The Blood of Dracula's Castle is one of those obscured films that has stayed out of the minds of horror film fans and forgotten due to the fact that it is a cheesy low budget movie that doesn't satisfy. This is a dull, pointless and uninspired film that just doesn't deliver anything worth checking out. The acting is bland and it is never anything good, in fact it's laughable to say the least. I really wanted to enjoy the film, but I couldn't. There is never anything great going on-screen, and it's a shame because the film had potential of being quite good. This is a scare free horror film that simply is a waste of time. It's no wonder as to why the film stayed obscured, it's a movie that doesn't deliver effective horror or thrills. I thought that this was one movie that really should have been improved upon, but it's clear that everyone involved in the making of the film were clearly inept at making a movie work. This is one of the worst vampire films I've seen, and you just wonder how this crap could be made in the first place. This film was awful in terms of story and acting, and it doesn't do anything interesting with its ideas it tries to project. This could have been a worthwhile vampire film, but it fails and it should stay hidden from horror viewers. However for those really wanting to check it out, do so, but be warned that it's nowhere near a good film and it is a highly forgettable one at that. This film is a disappointment and an awful horror film that should have been better. Clearly the filmmakers wanted to rush the process a bit, and they didn't care about giving viewers a quality film, and it shows.
Blood of Dracula's Castle, (Castle of Dracula) Quotes
There are no approved quotes yet for this movie.