Blood of Ghastly Horror
(2001)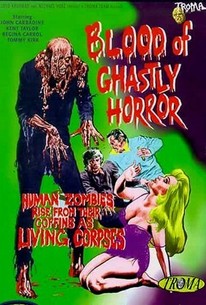 AUDIENCE SCORE
Critic Consensus: No consensus yet.
Blood of Ghastly Horror Videos
Blood of Ghastly Horror Photos
Movie Info
Al Adamson, shameless purveyor of countless horror anti-classics, juggles around most of the footage from his 1965 clunker Psycho-A-Go-Go after dressing up and re-releasing it on no less than three prior occasions (under a wide assortment of titles -- see below) with a few incomprehensible subplots added to further confuse audiences into thinking they were watching something else. The initial premise involves an insane Vietnam veteran being fitted with a brain implant by mad medic John Carradine (a regular Adamson player by this point) and used as a remote-control zombie by a cabal of jewel thieves. Their pet maniac subsequently blows a gasket, breaks his programming and turns on his controllers, strangles some dancing girls, then gets his revenge on Carradine. Enter gratuitous subplot #1 as the electro-fiend heads straight for Lake Tahoe (can you blame him?), where his rampage continues until he is eventually killed by the cops. Splice in gratuitous subplot #2: The late psycho's embittered pop is also a monster-making mad scientist, who avenges his son's death by mutilating Carradine's buxom daughter. None of the aforementioned plot combinations can disguise Adamson's trademark style -- i.e. cheap gore, cardboard sets, hideous acting, and so on. Viewers who manage to make sense of this piecework monstrosity should switch off their VCRs and seek immediate professional help. Sundry title variations include The Man with the Synthetic Brain, The Fiend with the Atomic Brain, The Fiend with the Electronic Brain, The Fiend with the Synthetic Brain... you should begin to notice a vague pattern here.
Critic Reviews for Blood of Ghastly Horror
There are no critic reviews yet for Blood of Ghastly Horror. Keep checking Rotten Tomatoes for updates!
Audience Reviews for Blood of Ghastly Horror
Has the distinction of being one of the rare films that I just couldn't be bothered to sit all the way through....and I usually enjoy bad films. This one was so badly pieced together and convoluted that it was unwatchable. Half a star for the couple of chuckles like the bad guys knocking people out with a painfully weak karate chop to the neck and peoples eyes going cross as they get strangled,
Blood of Ghastly Horror Quotes
There are no approved quotes yet for this movie.
Discussion Forum
Discuss Blood of Ghastly Horror on our Movie forum!