Blood And Ties
(2013)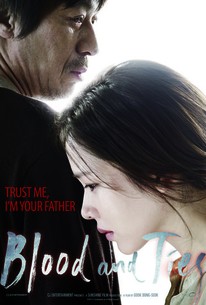 AUDIENCE SCORE
Critic Consensus: No consensus yet.
Movie Info
Embarking on her lifelong dream to be a reporter, Da-‐eun (SON Ye-‐jin) can't imagine being happier and knows this life is the giV of her do5ng father Soon-‐man (KIM Kap-‐soo). He was a father who sacrificed everything for his daughter and she was a daughter who dearly loved the only parent she had ever known. But when an infamous child abduc5on case comes back into the news as the statute of limita5ons is set to expire, Da-‐eun is struck by the similarity of the kidnapper's voice recording to that of her father. Her cruel doubts begin to strain their perfect father-‐daughter bond and lead the two of them down a dark path to discovering where the limits of love and loyalty lie. (c) CJ Entertainment
Critic Reviews for Blood And Ties
All Critics (3) | Top Critics (2) | Fresh (1) | Rotten (2)
Increasingly intrigues as events unfold, all against a convincing ticking clock.
The director, Kook Dong-seok, has a decent suspense dynamic working early, but the closer the deadline comes, the sillier things get.
Audience Reviews for Blood And Ties
½
This work of fiction portrays a story of a devoted father whose voice coincidentally matches with the "Voice of a Murderer". The daughter struggles to find out the bitter truth & defends her father disregarding & even withholding the concrete evidence against him. The climax plays a spoilsport and fails to be convincing enough.
familiar stranger
Super Reviewer
This is an intriguing premise undone by silly plotting and characterization as the film nears its climax. It does a good job at slowly building up to its climax, giving you enough to suspect or to doubt the claims that Da-eun's father had anything to do with the kidnapping and murder of this little kid. Of course, once the statute of limitations is up, which is apparently 15 years for kidnapping and murder in South Korea, which is mind-boggling if you really think about, is when the silliness starts to happen. I like the idea of Da-eun not really knowing the kind of person that her father really was and/or still is. There's a good concept in that, not really knowing the person that you trust and love most in this life. And, again, they do a decent enough job for the most part. It's not like the climax destroys everything the film tried to accomplish, it just puts it several notches below what it would've been normally. The problem is the fact that they have to so heavily dramatize what's going on. There's no real subtlety to the climax. It's melodramatic and overacted. And that's a really big problem, because the story of what a father would do for his child can be a good one if done correctly. Mother, by Bong-joon Ho is a perfect example of how well this story can be told if done correctly. You don't have to resort to overacting, melodramatics, and an emotional score to manipulate the audience into buying your story. Just have a talented actor, or actress in the case of Mother, and let her sell the story on her own, without any smoke or mirrors. Mother is one of my favorite Korean movies, so it's obvious that subtlety worked perfectly in that situation. It's not a terrible film whatsoever. It's just one that doesn't make the most out of its concept. Instead relying on old genre tropes that've been worn out for decades. The acting is fine but, again, there's a bit of overacting once the truth is revealed. It took a lot away from the film, not to mention that it's a little bit silly if you ask me. There's no twist, fortunately, it's a 'he did or he didn't'. Don't expect to be M. Night Shyamalaned. It's also well shot, but unspectacular. Nothing about the film truly jumps out at you in any particular way. It's watchable at the very least, but it definitely won't stick with you for a long time. I think I'm determined to watch every South Korean movie that becomes available on Netflix and that's pretty much the only reason I actually chose it. South Korea is one of my favorite countries and many of my favorite films are from there. If you love Korean movies and you've watched everything Netflix has to offer, then this would be a good choice. If not, you should stay way. Not awful, but not good either.
Jesse Ortega
Super Reviewer
Blood And Ties Quotes
There are no approved quotes yet for this movie.
Discussion Forum
Discuss Blood And Ties on our Movie forum!