Blood Beach
(1981)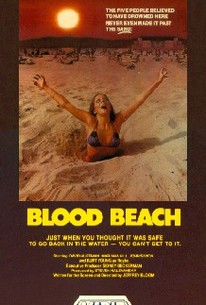 Movie Info
Sun-worshiping Californians are disappearing by the droves at a popular beach hangout, and a pair of extremely gruff detectives (John Saxon and Burt Young) grumble their way through the case until the real culprit is discovered... it seems a giant burrowing sand-monster with a taste for well-tanned human flesh has set up house beneath the surface and has been partaking of beach bums and bunnies, sucking them down to a nasty (but mostly unseen) death. The creature is kept completely concealed until the final minutes, but its triumphant arrival reveals the real reason the filmmakers kept it hidden so long: the dreaded beast looks like a giant artichoke! The potential for campy fun in this premise is defeated by a completely straight, plodding detective story, but at least Saxon and Young turned in enjoyably cranky performances before picking up their checks.
Rating:
R
Genre:
Directed By:
Written By:
In Theaters:
Runtime:
Studio:
Jensen Farley Pictures
Critic Reviews for Blood Beach
Audience Reviews for Blood Beach
Blood Beach is an awful horror film that relies on a poorly written script and poor directing. Add to that a cast that really don't have anything to offer in their performances. This is a very boring film that just fails to be entertaining and fun. We never get to see the monster that lurks beneath the sand, and you are left wanting more out of the film. Unfortunately, the film's script is so limited by poor writing, that there never is anything to grab your attention. Blood Beach is an awful B movie that should have been fun; instead it just fails in terms of story, acting, scares. This is laughably bad, and it shouldn't have been. There might have been potential of making an effective monster film here, but it was just boring with nothing to keep you interested. Blood Beach is not worth seeing, and you should seek out a far better movie than this piece of trash. Avoid it, as you'll be bored with how its ideas are being presented on-screen. This film is just a collection of poor actors acting out awful material, and the result is a mess that should be left ignored. I had high hopes that this one would be mindless fun, but it was just a bad movie that wasn't even in the "so bad, it's good" category. Don't waste your time, Blood Beach is poorly executed and it just fails to entertain the viewer looking for monster mayhem. Check out other genre films, you'll be glad you did. This just makes some of Corman's worst efforts look great by comparison. Skip it as you'll save yourself the time.
I honestly couldn't resist picking this movie up at comic-con when I saw it. The title just screamed buy me, being a fan of campy movies I decided it was in my best interest to get it. Boy was I wrong. This movie had potential but its very low budget and leaves way to much to much to the imagination. Its very flimsy and comes off as very rushed at times. For the most part I really couldn't understand what was happening besides waiting for this monster to appear. The plot is basically your typical weird biological monster that pretty much blends in with the sand and kills from the sand... So instead try to think of it as killer quick sand because the movie describes it as an amoeba which is just silly. The monster suffers visually and looks terrible. This movie really suffers from a few things, horrible quality, mediocre acting and dialogue. Monster scenes that are way too to and far between. It really bores you after a while and lacks a sense of direction. Overall this story was a let down and didn't deliver what I had hoped at all, but for what its worth...well certainly not worth what I paid.. but if you want to see something just to say you've seen it, I recommend this one most definitely. I won't recommend this to anyone else really even camp cult fans much like myself, just steer clear of it guys.
Chad Halsman
I wanted very much to like Blood Beach but upon watching the movie, there's no denying that it is a terrible film. It's about as bad as an old episode of "In the Heat of the Night" except "Blood Beach" is slightly more difficult to follow. The movie starts off with a woman being sucked into the sand while on the beach. This happens a few times throughout the film and that is all the action and horror we get. That and I guess there's that scene where some rapist gets his penis bitten off by a sandworm. Trust me on this though, that scene is not nearly as cool as you would think it would be. A little ways into the movie the town figures out what's going on and begins trying to find the creatures beneath the sand. That is most of the movie: the town looking for the sandworms. They can't find them and neither can I. There's only about a minute and a half of actual sandworms. The rest of the movie involves some weird romance side story. Some affairs or something between the characters that, are almost undistinguishable between one another. I think there's a sex scene or two but I can't tell as these scenes, and some of the other scenes in the movie, were nothing more than dimly lit shapes moving around. This film's only redeeming qualities are that it has something to do with sandworms, and John Saxon ("A Nightmare on Elm Street") who gives the only good acting performance in the movie. "Blood Beach" is out of print. It took me some time to track down. I had high hopes for the dark purple Media VHS tape. It was a beach horror movie, from 1980, about sandworms. It has one of the best titles I've ever heard and the poster artwork looks pretty damn good too. But this movie just isn't even much of a movie. Yeah, this movie is a bad. The worst part though isn't that's it's bad; it's that it could have been a truly great movie. In theory it has a lot of potential but to say that it was poorly executed would be an understatement. To anyone who hasn't seen this movie, don't waste your time. It's not a matter of my opinion. I really just cannot see how anyone would ever actually like "blood Beach".
Andy W
Discussion Forum
Discuss Blood Beach on our Movie forum!