Blood Games
(1990)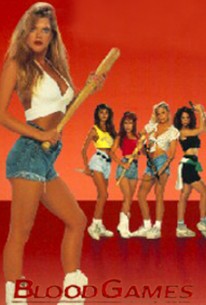 AUDIENCE SCORE
Critic Consensus: No consensus yet.
Movie Info
When some locals get whomped in a baseball game by a traveling team of femmes, they blame the team for the murder of their town rapist and proceed to hunt them down in the neighboring wilderness. After their numbers are significantly reduced, the bodacious babes begin to bat back.
Critic Reviews for Blood Games
There are no critic reviews yet for Blood Games. Keep checking Rotten Tomatoes for updates!
Audience Reviews for Blood Games
this was an awesome moviee I'm surprised it says it came out in the 90s felt more like early 80s non the less it was a campy fun movie with sexy girls playing baseball with perky rednecks and things just go nuts def a plus if you like fun campy and over the top fun.
Joseph Gharzai
½
The type of gloriously bad film you can only hope to luck upon once every few years. The dialogue is ferociously bad and incredibly funny.
Y'know, you'd think this flick would have more of a reputation. It's got a surefire exploitation premise--an all-girl softball team gets hunted down by a bunch of rednecks. It's got shower scenes, barroom brawls, car chases, and a gushing review from drive-in guru Joe Bob Briggs. And yet, it lacks a cult following. Released on video years ago, the film hasn't surfaced on DVD, and there's never been any call to even on the most desperate cult film message board. Possibly because BLOOD GAMES isn't actually any good, and it's not an easy task to figure out why. It hits every exploitation element it can. It's got violence, nudity, and baseball. The acting is about par for the course. Briggs calls it "the most carefully made revenge flick in the past 20 years." Which makes you wonder exactly what the usually-reliable Briggs was on. BLOOD GAMES starts off just fine, with Ross Hagen leading his team of "Babe and the Ballgirls" to a hard-earned victory over a group of stereotypical hicks. The win is supposed to net the team $1000, but Mino, the guy Hagen bets against, welshes and short changes them several bills. Hagen counters this by going to the local pub and beating the hell out of him in the bathroom. Meanwhile, two of the girls (including Hagen's daughter Babe, played by DR. CALIGARI's Laura Albert) go off in search of their captain. They're attacked by Mino's son and his similarly red-necked friend, and Mino's son ends up getting killed in their rescue. Mino swears revenge, gathers up his gun-totin' friends, and starts stalking the team. The rest is pretty formulaic, but director Tanya Rosenberg keeps things moving. It's just a shame there's never a reason to really care about anyone involved. With the exception of Babe, none of the softball team members are given any real individual traits, and since they're all wearing the same outfits, it quickly becomes a hassle just trying to tell the characters apart. This would be fine if the film was done with an exceptional degree of, well, misanthropy, but everything's about as predictable as you can get. There's nothing particularly memorable about the attacks, especially since they're both commited by and towards folks the film's never bothered to establish. Not to mention that the whole thing doesn't make a whole lot of sense. Why would Hagen drag a team of women down to the middle of nowhere to play softball for the reward of a mere $1000, which split amongst the team, would be a mere $100 a piece? How does the group of rednecks manage to catch up to the team's bus when they're clearly headed on a straight path out of town? Why doesn't this group, clearly in a town far away from home, bother carrying a map? It's all pretty lame, unexceptional stuff, with neither enough wit, sleaze or character development to make it worth more than a really desperate choice for late-night viewing. It's like a musician that plays all the right notes, but you can tell their heart isn't into it. Oh yeah, and the black woman dies first, so that's a case for the "black character must die" theory of exploitation.
Paul Freitag
Blood Games Quotes
There are no approved quotes yet for this movie.
Discussion Forum
Discuss Blood Games on our Movie forum!