Blood of the Zombie
(1961)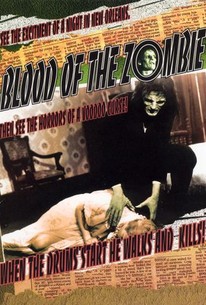 AUDIENCE SCORE
Critic Consensus: No consensus yet.
Movie Info
From Barry Mahon, the man who brought us the tale of a killer gorilla that goes on a nudist colony killing spree, comes this story of a voodoo priestess and her gruesome army of the undead. Fearing that her Louisiana plantation will soon be taken over by her recently married cousin, the vengeful Monica uses voodoo to resurrect her dead brother and wreak havoc on any who cross her.
Rating:
NR
Genre:
Directed By:
In Theaters:
On DVD:
Runtime:
Studio:
Independent International Pictures Corp.
Critic Reviews for Blood of the Zombie
There are no critic reviews yet for Blood of the Zombie. Keep checking Rotten Tomatoes for updates!
Audience Reviews for Blood of the Zombie
I'd like to think that if and when I do get married, I'll have a nice honeymoon. Maybe something as simple as going to a bed and breakfast, or as adventurous as a two-month tour through Asia. I haven't really thought about honeymoon potential much, but I'm pretty sure that even if I did, I'd never stumble upon the idea to tell my mate, "Hey, after we get married, why don't we go meet a beatnik friend of mine, see some strippers, then take a trip up to my cousin's plantation where we can discuss real estate and I can regale you with stories about our slave quarters? Maybe we can even pick up a hitchhiking floozy in a leopard-print dress on the way!" I know I'd never stumble upon this idea because I know it would be to awesome to ever happen. And yet that's exactly the post-wedding adventure that John, the "hero" of [i]Blood of the Zombie[/i] played by John MacKay*, takes his bride Linda on. Now I'm not saying I know women very well, but it's a good thing Linda's such an emotion-free schoolmarm of a girl, because if she wasn't, she'd be [i]pissed[/i]. The adventure starts in the New Orleans French Quarter, where the couple meet up with John's beret-wearing musician friend who sticks "dad" in every sentence and tells Linda, "you're a gas, baby!" They then go watch a performance by the improbably-named Bella Bella, who plays castanets and shakes her butt in flimsy clothing. Then they go see a band. It's all very entertaining in its' own way, especially from the historical perspective of watching a travelogue of 1961 New Orleans, but eventually, you start to realize, "Hey, isn't this movie supposed to be about a zombie or something?" Fortunately, just when they run out of interesting acts to fill time with, it's off to the plantation. You see, by getting married, John has inherited the plantation out in the Louisiana backwoods that's currently run by his nutjob ice queen cousin Monica. Monica had apparently inherited it from their grandfather along with her brother Jonas, but Jonas is dead and now that John is married, he gets it. I don't understand it either, and I kind of gave up on trying to figure out the legal reasoning for all of this half an hour in, but from what I can see, it just makes John look like an asshole for coming in and immediately claiming "his land" that he hasn't cared about for years. The fact that he comes to the plantation immediately after getting married makes it look like he just got married in order to get the plantation, which makes him even [i]more[/i] of an asshole. On the way to the plantation, the two pick up a stranded Bella Bella, whom John tries to assist by helpfully asking her, "Have you got any gasoline?" while she's checking her dead engine. Bella Bella tags along to the plantation, thus giving us the opportunity to watch lots of awkwardness and a spare character to kill later. The group isn't greeted with glee by Monica, which is understandable, as I wouldn't be too happy about seeing some asshole relative, his blank-eyed wife and a cheap floozy turn up on my doorstep in the middle of the night either. Fortunately, Monica has been busily performing voodoo rituals with her servants (it's unclear why they're helping with all this, unless they know what an asshole John is) that mostly involve yelling "Kill! KILL! KILL!" while someone drums in the background, thus allowing Jonas to come back from the dead in an effort to kill, oh, everyone else, I guess. Now, this is 1961, so the zombie involved shuffles so slowly and mechanically that it's pretty much impossible to be caught by it without actually running backwards, though Bella Bella makes the best effort by standing still for a while before fainting. All of the voodoo ceremonies seem to be like an awful lot of effort when you could, y'know, just kill someone. Voodoo zombies might be okay at slow, menial tasks like sweeping or reorganizing books, but using them to kill, especially when they sometimes kill the wrong person (like here), just seems like an inappropriate use of magic. But who am I to judge? It was a different time. People were stupider back then. More racist, too. Watch as John takes Linda through a tour of the plantation's slave quarters, gleefully explaining, "that's where they kept them chained up at night when they first brought them over from Africa!" He even manages to be both racist [i]and[/i] stupid when, in rationalizing Monica's voodoo interests, "she just says that because she gets along better with the help. No[i] intelligent[/i] people believe in voodoo!" I suppose this should be offensive, but everything about the film is so stupid that it's hard to take anything in it seriously. So we've got an outragrously bad "hero," a braindead wife, an overacting shrill ice queen of a voodoo queen, several bad actors playing the servants, a stripper with a squealing voice, a zombie that looks like Alice Cooper with oatmeal on his face and a brief tour of 1961 New Orleans. All of this doesn't add up to anything near a good movie, but it's certainly an entertaining one, and at just over an hour, goes by quickly enough to keep any B-movie fan satisfied. Recommending it seems like a bit of a stretch, but I had fun, and anyone else who wallows in early-'60s horror cheese will as well. It's an impressively silly timepiece from future nudie filmmaker Barry Mahon ([i]The Beast that Killed Women[/i]) and the first half hour is highly recommended for historical cajuphiles looking for a snippet of the 1960's French Quarter on film. [size=1]* -- [url="http://www.bleedingskull.com/"]Bleeding Skull[/url] describes him as a "poor man's Bill Kerwin," and it's a perfect description, though one that means nothing to 99.9% of the population.[/size]
Paul Freitag
Blood of the Zombie Quotes
There are no approved quotes yet for this movie.