Bloodfist V: Human Target
(1994)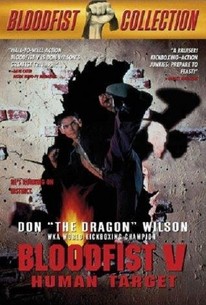 AUDIENCE SCORE
Critic Consensus: No consensus yet.
Bloodfist V: Human Target Photos
Movie Info
An FBI agent finds himself the target of both his agency and arms dealers when his undercover gig is found out and he loses his memory after an attack.
Critic Reviews for Bloodfist V: Human Target
There are no critic reviews yet for Bloodfist V: Human Target. Keep checking Rotten Tomatoes for updates!
Audience Reviews for Bloodfist V: Human Target
½
Well I just got back from the hospital. Apparently I had an aneurysm after the Bloodfist V end credits rolled. The doctor said I was lucky to be alive and that there was really no good explanation for the cause of aneurysms. I beg to differ. I knew exactly what caused my aneurysm...Bloodfist V. Not for being bad but for actually being decent. My brain just could not handle the fact that there could actually be two decent entries into the Bloodfist franchise (in a row no less!) so it just overloaded and almost left me dead. I'm still shocked as this fifth entry is almost as good as Bloodfist IV. Like the previous two sequels again the film is completely unrelated to the other films. This time we have Don "The Dragon" Wilson waking up from a coma not knowing who he is. He is greeted by his "girlfriend" (none other than Denise "Subspecies Sequels" Duff). While taking him "home" they get chased down by guys with machine guns. Apparently Wilson's has a questionable past but was he a good guy or a bad guy? We then find out that Denise Duff is a whore hired to act as his girlfriend. The best part of the film though is that Steve fucking James plays her pimp. Remember Steve James? He played the sidekick in some of the best B-action films ever made: American Ninja, American Ninja 2: The Confrontation, Avenging Force, The Delta Force and Hero and the Terror just to name a few. This guy is major bad ass and his presence in any B-action film is greatly appreciated. This is when the plot does a whole lot twists and turns. Wilson is then kidnapped by the FBI and says he works for them, he is then kidnapped by the bad guys and is said to work for them, and vice versa. Characters return throughout the film first playing a bad guys, then good guys, and vice versa. There are actually so many twists and turns I actually got a little tired of it by the end. MAKE UP YOUR FUCKING MIND ALREADY...is he good or is he bad! Despite perhaps having too many twists, the film ends up being a decent B-action movie...especially by Bloodfist film standards! The acting is decent and the direction is adequate. Other than the entertaining awfulness of the first film, Bloodfist IV and V end up being king of the pack in this overly long series.
Eric Reifschneider
This is one of the most enjoyable, well-done of the Bloodfist series. I'm a big Wilson guy, and a big proponent of the idea that the first three Bloodfist movies are classics on equal footing with anything JCVD or Seagal were putting out at the time. This isn't as good as the first three, but it's the best the series got before the last three entries messed everything up. Continuing the paradigm set up in the fourth entry, this one sees Wilson as a guy who can't trust anybody but himself, and needs to save the day from some international intrigue or threat. There have been some abysmal, unbelievably shitty sequels in this franchise, but one thing the Bloodfist movies always delivered on was well-crafted action scenes, and this has a lot of 'em. Donny doesn't know who to trust, so he's fighting all sides most of the duration of the film, taking some time out to chill with the oh-so-fine in an early 90s kind of way chick Denice Duff. I guess this is Wilson's version of Hard to Kill, because he plays a guy named Jimmy Stanton (or is he?) who is shot in the head at the beginning, and doesn't know if he's on the side of the good guys or the Chinese mafia baddies. Denice Duff is "Candy," a hooker (or is she?) who, after meeting Wilson for five minutes (three of which involve a fist fight in a garage), agrees to help him find out his identity. This may be shocking to some, but I really felt that if this had a bigger budget, and actors who could "act," this would've been a good theatrical release. There are some familiar faces from tv land here: one of the guys from Mad TV shows up as a guy working at a jewelry store, and Babu from Seinfeld is an illegal arms dealer trying to buy some stolen plutonium from the Dragon. The chick is not too bad as far as eye candy goes, and she's not too annoying either, so it gets a thumbs up for that. This movie has the distinction of being the last movie Steve James made before he tragically passed away. He's only in a few scenes, to tell the truth, but he's still good here. He plays a pimp (or does he?) of some sort. He doesn't go all out and Curtis Jackson on anybody's ass (he does, however, almost go Fargo on Wilson's ass), but I can understand the guy was going through some stuff. I'm surprised I liked this as much as I did when it first came out. A nice movie to watch with the equally entertaining Bloodfist IV: Die Trying.
Jason Anderson
Bloodfist V: Human Target Quotes
There are no approved quotes yet for this movie.
Discussion Forum
Discuss Bloodfist V: Human Target on our Movie forum!