Bloodsport 2: The Next Kumite
(1996)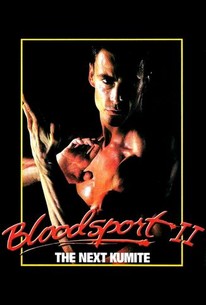 AUDIENCE SCORE
Critic Consensus: No consensus yet.
Bloodsport 2: The Next Kumite Videos
Bloodsport 2: The Next Kumite Photos
Movie Info
Imprisoned after he is caught stealing an East Asian treasure, streetfighter Alex Cardo's martial arts skills are no match for the angry mobs who taunt him and the ruthless guard who mercilessly torments him. His only friend is Master Sun, the world's greatest practitioner of the Iron Hand fighting style. Cardo gets a chance for revenge against the bullying guard Demian when he learns that Demian has received an invitation to kumite, an international championship in which the world's greatest fighters battle it out until the death.
Rating:
R (adult situations/language, violence)
Genre:
Directed By:
Written By:
In Theaters:
On DVD:
Runtime:
Studio:
FM Entertainment
Critic Reviews for Bloodsport 2: The Next Kumite
There are no critic reviews yet for Bloodsport 2: The Next Kumite. Keep checking Rotten Tomatoes for updates!
Audience Reviews for Bloodsport 2: The Next Kumite
½
First sequel to the fun and entertaining Bloodsport is a poorly constructed film that simply doesn't deliver despite the fact that it has some interesting fight scenes. The reason the film doesn't work, and ends up being a bad one is that it doesn't do anything to really entertain and it has a dull, boring plot, which is a turnoff if you're looking for a fun film with engaging plot. Bloodsport 2 doesn't offer that, and it fails to really shine as a good sequel. I strongly believe that the original should have been a standalone film and it didn't need a sequel. Don't look for anything new here, it's been done before. There's really nothing going for it, and it doesn't shine or have anything good going for it at all, and I think it's a shame because the first one was lots of fun, entertaining and had an interesting plot to boot. Look elsewhere for something good and this film fails at delivering just that. This is a poor film that has a bad cast, poor directing and a poor plot. The film tries far too hard at being better than the original, thus it fails at being good all together. Avoid this film if you enjoyed the first flick, and if you already have seen it, you know what I'm talking about. This is yet another example of a sequel gone wrong and it has no redeeming factors whatsoever, and it is not entertaining. Avoid this one; you'll be glad you did. Bloosdsport was good, not perfect, but this sequel and other sequels are awful and never should have been made.
Back in the day, Daniel Bernhardt was the guy you went to, when you couldn't quite afford Van Damme - but since every director can afford Van Damme these days, Daniel Bernhardt's 'fame,' just hasn't been the same. Sad thing is, if you go by talent alone, it's a coin toss. 'Bloodsport 2' isn't anything more than a remake, so just watch the awful original.
Bloodmarsh Krackoon
½
After being thrown in an East Asian prison for stealing an ancient sword, Alex Cardo (Daniel Bernhardt) meets a fellow prisoner who teaches him the "Iron Hand". Bloodsport II had an advantage on it's battle scenes, being more prevalent and having an array of styles and colorful characters. While Bloodsport had a darker tone, Bloodsport II seemed to have more fun when it came to it's choreography. However, when the characters weren't in combat, we were subjected to horrible dialogue and a convoluted storyline. Unlike Jean-Claude Van Damme who can easily emmit emotion to his character (sometimes being over-dramatic in the process), Daniel Bernhardt is dull and tries to coerce his character too much. It makes for a very unconvincing play on the part of the director. We are also introduced to another lead fighter in Demon (Ong Soo Han), who tries so much to emulate Chong Li (Bolo Yeung) in Bloodsport. At least Chong Li had a weakness (the stomach), Demon was an all-together unstoppable fighter; akin to a brick wall (it didn't sit well). Bloodsport II became more like a cartoon in this outing; with it's introduction to new fighting techniques being it's only intriguing aspect.
Rob Cisneros
Bloodsport 2: The Next Kumite Quotes
There are no approved quotes yet for this movie.
Discussion Forum
Discuss Bloodsport 2: The Next Kumite on our Movie forum!