Bloodsucking Freaks
(1978)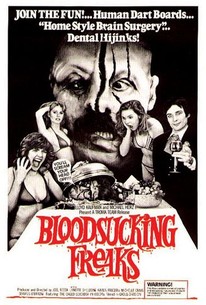 Bloodsucking Freaks Photos
Movie Info
Previously titled The Incredible Torture Show and rated X, this disturbed feature primarily includes scenes of gore, torture, and various other grotesque acts in a Grand Guignol fashion.
Critic Reviews for Bloodsucking Freaks
Audience Reviews for Bloodsucking Freaks
Tries to be artsy on it's violence and the audience of this type of movies, but ends up being a misogyny orgy, where in each section women are used for all sorts of perversions the guys who made this had in mind. Pathetic. Not a single Blood Sucking Freak can be found inside as well.
Francisco Godinho
Super Reviewer
A sadist who puts on a Grand Guignol off-off-Broadway show as a cover for his white slavery ring kidnaps a theater critic and a ballerina to design his greatest production yet; the plot is just an excuse to show naked women humiliated, tortured and killed. It's a comedy aimed at two groups: those who get aroused by seeing females gruesomely killed, and those who take pride in their capacity to laugh at human suffering.
This movie wasn't at all what I expected from the title, there wasn't any bloodsucking, but everyone in the movie was a freak. Overall this movie is pointless, it's barely got a plot, and really it's more of a series of people being tortured by freaks. I would advise people to stay away from this movie unless you enjoy pointless torture movies.
Bloodsucking Freaks Quotes
There are no approved quotes yet for this movie.