Bloody Mallory
(2002)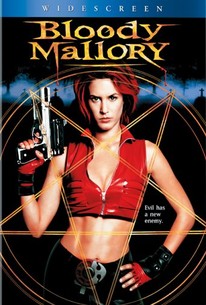 AUDIENCE SCORE
Critic Consensus: No consensus yet.
Movie Info
Directed by Julien Magnat, Bloody Mary is a piece of French kitsch chronicling the journey of Bloody Mallory (Olivia Bonamy), the paranormal commando hired to rescue the pope from the band of ghouls who kidnapped him during a visit to Notre Dame. The issue is complicated when the Vatican's publicist is revealed as a frontman for the forces of evil. Mallory is no one to be trifled with, however--she hacked her own husband into pieces on their wedding night when he turned out to be a demon. Along with her crew, which includes a shape-shifting mute little girl with telepathic powers, and a 7-foot French-American drag queen (Jeffrey Ribier), Mallory has no qualms about fighitng evil. ~ Tracie Cooper, Rovi
Audience Reviews for Bloody Mallory
½
A strange French film indeed. Kind of their answer to Buffy or Xena. Fun and campy. I'd love to see a sequel.
Robert Iwataki
Fun, campy French fluff about a "paranormal commando" who, along w/ her team - a leather clad priest, a transvestite explosives expert, and a mute child psychic - attempt to rescue The Pope from demons/ghouls. Not art, but light goofy fun.
Paul Cardullo
It's Halloween...time to rent those horror flicks. Or horror-comedies, as the case may be, and as the case was last week. I was really looking forward to [b]Wrong Turn 2: Dead End[/b] [img]http://i27.photobucket.com/albums/c154/jcs5/rollins6.jpg[/img] but I kinda wished that the pic above would've been Mr. Rollins reaction when he read the script. I really enjoyed the first [b]Wrong Turn[/b], but I'm not sure if everyone involved with this one realized they were making a horror-comedy; I certainly didn't expect it to be one when I fired up the dvd player. This time 'round, the story involves a reality show being shot in the same West Virginia hills where the original took place. It's something about post-apocalyptic survival in a devastated "wasteland", but apparently the would-be producers didn't check out the location very thoroughly before they set up to film the first episode. The film has a few things going for it: loads of gore, a fairly funny turn by Henry as an intense ex-Marine who's the host of the show...umm...oh, and the director is wearing a Battle Royale t-shirt! That's cool, right? Except in the much better film it refers to, the game's participants really die, and in the lame American show he's shooting, nobody gets their head blowed up for not completing a challenge. To be fair, maybe it would've been a great, exciting show...except the hillbillies bust that sh-t up like a high-school kegger soon after filming starts. But I wasn't sure if I was supposed to cringe or laugh during the hillbilly make-out session, the freak baby's birth, or when one character sticks a lit stick of dynamite down the back of another's pants (yep). A lot of folks over at IMDB seem to think this flick is the bee's knees, but I just didn't get it. Anyway, it's not awful, and definitely worth your time if you're looking for some over-the-top splatter, but I'll stick with the original when recommending [b]Wrong Turn[/b]s. [b]Bloody Mallory[/b] [img]http://i27.photobucket.com/albums/c154/jcs5/bloody_mallory_big.jpg[/img] was a bit of a step up, and certainly [i]seemed[/i] to be right up my alley when I picked it up. It's very [b]Buffy[/b] meets [b]Resident Evil[/b]. Our heroine pledged to fight evil when her husband turned out to be a vampire on her wedding night...or something like that. Soooo...now she has a team (including a transsexual named Vena Cava and a child psychic named Talking Tina) that helps her vanquish demons and other hellspawn. Before they know it (and long before I adjusted to their wacky, comic-book world), the pope is kidnapped. Unfortunately, [b]Bloody Mallory [/b]often seems more corny than funny, and the evil beings she fights seem like the biggest joke of all, until the second half, when things pick up somewhat. Oh, and it's French. I'd recommend watching it sub-titled as opposed to the dubbed option to eliminate as much confusion as possible. The director (who also co-wrote) was obviously influenced by manga, [b]Buffy[/b], and comics in general, but the end result is kind of a mess. It certainly seems like this could've been the first in a series of movies and/or comics, and I think I would've been vaguely interested in Mallory's next adventure, but I guess that never came to be. In the interest of wiping away the bad taste of the latest [b]Return of the Living Dead[/b] sequels I figured I'd check out the first two sequels for the first time in a long while. I guess time really had made my heart grow fonder. [b]Return of the Living Dead 3[/b] [img]http://i27.photobucket.com/albums/c154/jcs5/rotld3_shot3l.jpg[/img] was directed by genre legend (in my mind, at least) Brian Yuzna. Unfortunately, his [b]Return[/b] entry lacks almost any trace of the humor found in each of the other films. In [b]3[/b], the military continues to experiment with the chemical that causes the dead to rise. One of the fellows running the show is Col. John Reynolds, and his son Curt sneaks his girlfriend Julie in to see some of the wacky sh-t dad has been doing. So, when Julie dies in an accident, Curt knows just where to go...to make a terrible mistake. Julie's transformation from hot girlfriend to living dead freak takes up most of the rest of the movie, as various characters get infected along the way. This is another one that's gory as hell, and the effects here are always interesting even if they don't always hold up to present-day scrutiny. Julie is played by a young Melinda (billed here as "Mindy") Clarke, best known as Julie Cooper, the MILF to end all MILFs on [b]The O.C.[/b], and she's pretty smoking here as well. [b]Return of the Living Dead 2[/b] [img]http://i27.photobucket.com/albums/c154/jcs5/ReturnOfTheLivingDead2_bild7.jpg[/img] came out in 1988, and is so dated by effects, clothes, and music that it comes across as almost charming. It's the closest in tone to the original, and includes two of that film's actors in different (though incredibly similar) roles. The return of Thom Mathews and James Karen alone pretty much earns this flick its '7', but I also enjoyed the gore (once again, not always the [i]best[/i] effects), and the presence of Suzanne Snyder (blonde & cute as Deb in [b]Weird Science[/b], redheaded & cute as Brenda here) is always welcome. I didn't really care for the ease with which the zombies took to non-human brains, and the cheesy neon-blue lightning that represents electricity in so many films of this era really looks like hell nowadays (and I won't even mention the lameness of the Thriller-period Michael Jackson zombie...oops, I just did). Quibbling aside, [b]Part 2 [/b]is an enjoyable diversion. I'll be off the horror kick soon (well, maybe I'll never be [i]totally[/i] off that), but next week, my favorite horror movie ever, and my favorite horror sequel ever combine with Josh vs. [b]The Jane Austen Book Club[/b] for the best Halloween entry. Ever. By me.
Josh Sprinkle
Bloody Mallory Quotes
There are no approved quotes yet for this movie.
Discussion Forum
Discuss Bloody Mallory on our Movie forum!