Bloody Mondays & Strawberry Pies
(2009)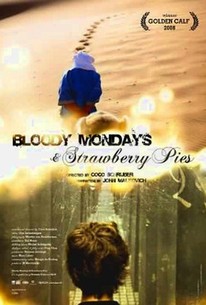 AUDIENCE SCORE
Critic Consensus: No consensus yet.
Movie Info
Most folks regard boredom as a bad thing, but is that true? Can having nothing going on prompt people to create something worthwhile to fill their time? Idle time can give some folks the opportunity to think about their place in the world around them and the important issues of life; then again, others will drift into crime or aimless violence if they don't have something to keep them busy. Filmmaker Coco Schrijber ponders the state and the consequences of boredom in the documentary Bloody Monday and Strawberry Pies. In the film, a number of people from different walks of life offer their perspectives on the idle mind, from a New York City stockbroker who avoids downtime at all costs to a young woman who works in a commercial bakery, making mass produced pies, and imagines the infinite possibilities of the world as she goes through a day of repetitive labor. Schrijber also talks to a former female spy who now lives a dull life in retirement, and introduces us to Brenda Spencer, who in 1979 went on a shooting spree that killed two people and injured eight, with Spencer explaining her actions by saying, "I don't like Mondays, this livens up the day." Bloody Mondays and Strawberry Pies was an official selection at the 2009 Hot Docs International Film Festival.
Critic Reviews for Bloody Mondays & Strawberry Pies
All Critics (1) | Top Critics (1) | Fresh (1) | Rotten (0)
A rapturous, often profound visual essay about the metaphysics of time - about how we spend our lives fleeing from the silence of existence by filling our days with busy-ness. It's a film to come back and touch in your thoughts for quite a while.

Audience Reviews
There are no featured reviews for Bloody Mondays & Strawberry Pies at this time.
Bloody Mondays & Strawberry Pies Quotes
There are no approved quotes yet for this movie.