Bloomington
(2010)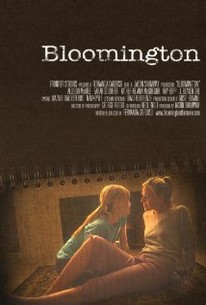 AUDIENCE SCORE
Critic Consensus: No consensus yet.
Movie Info
A young woman finds first love with a more mature partner in this lesbian-themed independent drama. Jackie Kirk (Sara Stouffer) spent most of her teenage years in the limelight; she was a member of the cast of Neptune 26 , a popular sci-fi television series that enjoyed a six year run. But now that the show has been cancelled, eighteen-year-old Jackie simply wants to be inconspicuous, just another freshman psychology student at a university in Indiana. Thanks to Neptune 26 's success, that's no simple task, and her celebrity alienates more of her fellow students than it attracts. Jackie is attending a mixer for psychology students and faculty when he meets Catherine Stark (Allison McAtee), an attractive and confident professor. Catherine makes no secret that she's attracted to Jackie, and Jackie eagerly responds in kind. Soon the two are having an affair, but their relationship does not go unnoticed by campus gossips. Word about their romance spreads following the announcement that a Neptune 26 feature film is going into production, making Jackie even more recognizable, and the couple find themselves subjected to the often harsh judgment of others. Bloomington was an official selection at the 2010 San Francisco International LGBT Film Festival.
Rating:
R
Genre:
,
Directed By:
In Theaters:
On DVD:
Runtime:
Studio:
Cinetic
Critic Reviews for Bloomington
All Critics (1) | Fresh (0) | Rotten (1)
Starts promisingly but is ultimately compromised by its characters' shifting allegiances and alliances. Too much of the film is hard to swallow...(Writer-director Fernanda) Cardoso may need to get back to basics academically.
Audience Reviews for Bloomington
½
The indie film Bloomington is an interesting character drama that follows a young woman's journey of self-discovery and search for independence. Former child star Jackie Kirk goes away to college and becomes involved with one of the instructors, but when she gets a chance to revive her Hollywood career it puts a strain on her relationship. Newcomer Sarah Stouffer gives an impressive performance and has a magnetic screen presence. Also, the writing does a good job at preventing the film from getting overly melodramatic and clichéd. In fact, the story and character development are rather minimalistic. Yet despite been a bit toned down, Bloomington is an entertaining coming-of-age film.
Dann Michalski
Super Reviewer
Not impressed.. no build up to the relationship,.. nothing felt believable about this. If you want this kind of story, check out Loving Annabell (still, not perfect, but at least you could see some actual chemistry)
Anne Still
½
An interesting film. Had a few plot holes but a brave idea. More funny and witty than melodramatic which is always a plus. Both Stouffer and McAtee were great actors. The love scenes between them were just as I like them, warm, romantic and full of chemistry. I guess what I didn't like was the plot fails. Perhaps, the story encountered some problems portraying a delicate issue, a supposedly taboo relationship but that's no excuse for not pushing the envelope and pushing the film forward, making it more realistic, controversial and powerful. For example, in the first half of the film, the two seem all lovey-dovey, perfect for each other, but in the second half, their love suddenly falls apart, as if on cue. Other problems, are just areas which could have used better storytelling. For example, protagonist, Jacky's whole child-actor past provides a quick get-away for Jackie in the stilted moral ending but all-throughout seems more like a distraction and a convenient source of all of Jacky's past traumas that might "scar" her and make her more open to a forbidden relationship. The film would have probably been more controversial, but a better film, if Jacky were portrayed as a normal college student with an interest in her professor built up slowly on shared academic interests, not appearing out of thin air and being based on very little, like in the movie. The film could also have been more realistic if the professor wasn't written to be orphaned early, isolated, intimidating and obviously desperate for affection and desperate not to be alone (despite her good looks). The film would have probably been more controversial, but a better film, if Stark had been portrayed more as a normal professor for her age, already with a husband or a partner and kids. This development would have created a much more interesting and realistic tension in the film, and would have given a much more stronger and plausible reason for the two ultimately breaking up. Even if the professor wasn't portrayed as normal, the incredible tragedies in her past and the pain beneath her cool exterior should have been explained more and built up to more instead of being introduced with a backward glance and in such a weak fashion - like oh this is why she's with a student, she has some random trauma in her past! Not necessarily. Do they two have to be so obviously scarred and broken for their relationship to happen? Can't they just fall in love? The convenient psychological scars created into the two characters are just a backhand, roundabout judgement society has passed on their relationship - a gay relationship between a older and younger person. Other smaller plot holes include them sleeping with men when they are estranged. I mean it's perfectly possible that the two are bisexuals or gay women who can sleep with men but only fall in love with women. But the idea of women in a gay relationship sleeping with men as the ultimate revenge to get back at one another is so dated and old in gay stories. I thought the nearly always controversial dynamic of older-gay-lover-possibly-acting-as-younger-gay-lover's-stand-in-for-an-unkind-or-emotionally-distant-same-sex-parent was handled well, but that dynamic and the tension it brings is also old and over-used in gay stories. That dynamic, though so easy to use, is also kind of stereotypical and harmful to the image of gay relationships, painting them as pseudo-incestuous or caused by some problem in the home. Finally, the other supposed great tragedy in Jacky's life, besides her neglectful mother, which pushes her to magically go back to acting, the death of her co-actor Mark, is barely described and the significance Mark had in Jacky's life (was he a friend, boyfriend?) is never explained. To think that she's going back to acting for this late Mark and not for something more plausible such as to follow her dreams demands more airtime on Mark, or dropping this piece of the plot all together, along with Jacky's whole child acting bit. Otherwise, I liked the film and it gets a high score for all the potential it had to be a good story. I understand perhaps the film was on a limited budget. But that's no excuse not to make a bold drama that doesn't limit itself to success in the summer queer film festivals. And being a bold drama doesn't mean it has to lose the fun bits I enjoyed in the film. For a film idea that could have been so powerful in a positive way, I'd say take some cues from other successful, better done movies on relationships between older and younger people - such as "A Single Man" and "An Education." Despite all that, good job.
Barbara Richards
Bloomington Quotes
There are no approved quotes yet for this movie.