Blossoms in the Dust
(1941)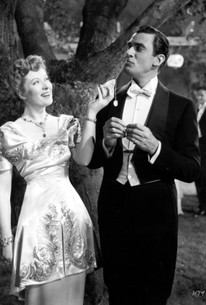 Blossoms in the Dust Videos
Blossoms in the Dust Photos
Movie Info
Greer Garson is dignity and integrity personified in the role of the real-life Edna Gladney. After several life experiences which rival daytime drama for unrelenting misery and melodrama, Edna marries flour-mill owner Sam Gladney (Walter Pidgeon). They have a baby, who dies shortly after Edna discovers that she can never have any other children. To give her life some meaning, Edna sets up the Texas Children's Home and Aid Society, which specializes in caring for illegitimate children and offering them for adoption. After her husband's death, Edna becomes a powerful political figure, succeeding in removing the stigma of illegitimacy by having that word stricken from all future Texas birth certificates; in this way, she honors the memory of her own half sister, who had killed herself upon discovering she was born out of wedlock. MGM thought enough of Blossoms in the Dust to film the production in Technicolor, a luxury usually reserved in 1941 for musicals or Westerns.
News & Interviews for Blossoms in the Dust
Critic Reviews for Blossoms in the Dust
Audience Reviews for Blossoms in the Dust
½
Verging on the sappy, perhaps this film was the prototype for all the made-for-TV "inspiring" stories that we are forced to endure. The film appears to be as dated as the prejudices against children born out of wedlock.
John Ballantine
Super Reviewer
Sentimental journey of some tramp who puts unwanted babies in her house. This is not notable so much for it's quality, but rather that I think it's the first Oscar nominee to include a suicide. That and her kid died. Big deals for 1941.
Nik Browning
Greer Garson is one of the best actresses I have ever seen on film. I have only seen three of her films the two above mentioned and "Pride and Prejudice". It might be astonishing to think that I used to call Greer Garson, Greta Garbo. Strange, because they're acting if so different even if their names sound alike. My favorite Greer Garson movie has to be "Random Harvest" one of the ultimate tear-jerkers of all time. (I love tear-jerkers...as you probably know:).) It is a love story about a man who has amnesia and falls in love with a woman still not knowing who he is. They get married and have a child. Later while on a trip he has an accident and recovers his memory...only to lose the memories of the years he spent with his wife. His wife goes on a frantic search to find him only to find out he doesn't remember her. The critics and the users on rottentomatoes.com give this 100% which it deserves. Please don't forget your kleenex box! "Blossoms in the Dust" is about a woman who strives to take care of children who were born illegitimate or orphans. It also goes through her life and circumstances that brought her to her purpose. It didn't make me cry as much as "Random Harvest" but, it is still a great film. [center][img]http://www.classichollywoodbios.com/Images/Links%20Images/G.Garson%20-%20%20R.%20Colman%20Random%20Harvest%20(1942).jpg[/img][/center] [center]"Random Harvest"[/center] [center] [/center] [center][img]http://home.hiwaay.net/~oliver/blossoms.jpg[/img][/center] [center]Greer Garson and Walter Pidgeon in[/center] [center]"Blossoms In the Dust"[/center]
Katie Martin
Blossoms in the Dust Quotes
There are no approved quotes yet for this movie.
Discussion Forum
Discuss Blossoms in the Dust on our Movie forum!