Blow-Up
(1966)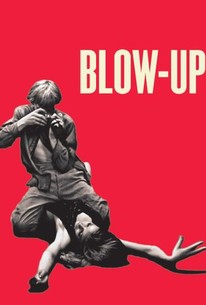 Movie Info
Italian director Michelangelo Antonioni's first English-language production was also his only box office hit, widely considered one of the seminal films of the 1960s. Thomas (David Hemmings) is a nihilistic, wealthy fashion photographer in mod "Swinging London." Filled with ennui, bored with his "fab" but oddly-lifeless existence of casual sex and drug use, Thomas comes alive when he wanders through a park, stops to take pictures of a couple embracing, and upon developing the images, believes that he has photographed a murder. Pursued by Jane (Vanessa Redgrave), the woman who is in the photos, Thomas pretends to give her the pictures, but in reality, he passes off a different roll of film to her. Thomas returns to the park and discovers that there is, indeed, a dead body lying in the shrubbery: the gray-haired man who was embracing Jane. Has she murdered him, or does Thomas' photo reveal a man with a gun hiding nearby? Antonioni's thriller is a puzzling, existential, adroitly-assembled masterpiece. ~ Karl Williams, Rovi
News & Interviews for Blow-Up
Critic Reviews for Blow-Up
Audience Reviews for Blow-Up
A well to-do artist finds that being well to-do doesn't forego the suffering latent in the job description: there are endless streams of pretty young things to despoil("they don't leave me alone!"), the unruly lower classes ("they can't get anything right!"), and maybe there was that murder he filmed in the park yesterday ... Antonioni musings on the act of artistic creation are similar to Frankenstein wherein what was formed might come back to kill you. The cast is very good, and the filming astounding for its time period. The 60's come off looking better than perhaps in any other film. Swinging London before Austin Powers laffed at it.
Kevin M. Williams
Super Reviewer
½
A lot of people say that this is Michelangelo Antonioni's best movie and also far superior to Brian DePalma's semi re-imagining. I would have to say that I disagree severely on both accounts. While this has an interesting basic concept and some of those great longshots that Antonioni is famous for, the overall execution and plot doesn't really go anywhere and the characters are anything but interesting to watch. If you love sleazy/cocky British photographers, then you'd be in heaven. However, I found no interest in his conflict. I would say that by far my favorite part about the movie is the fact that you see the attempted murder without even knowing you do, that is pretty clever. Now Brian DePalma took this idea and perfected it, while also putting his spin on it. Blow Out is by far the better work here in just about every way possible. Better acting and characters, imagery and shot technique that is completely revolutionary and memorable to say the least, but most importantly it has one of the greatest plot structures of any thriller. This movie is all over the place and ultimately blocks itself in.
Conner Rainwater
Super Reviewer
½
Antonioni's Blow-Up was the biggest hit of the Italian director's career, the superficial elements of the fashion world, Swinging London and orgies on purple paper ensuring its commercial success. Models such as Veruschka (who appears in the film), Twiggy and fashion photographers at the time have complained about its unrealistic depiction of the industry and claimed that its central character, Thomas (played by the late David Hemmings) was clearly based on David Bailey. To look at Blow-Up as an analysis of the fashion business in the Sixties is to misunderstand the film's intentions. In any case, when watching this film it may be difficult to tell what its all about if you're unfamiliar with Antonioni's films but it obviously has little to do with the fashion world which is merely the setting for the story and nothing more. Antonioni made the clearest statement of his motivation as a filmmaker at the end of Beyond the Clouds when he talked about his belief that reality is unattainable as it is submerged by layers of images which are only versions of reality. This is a rather pretentious way of saying that everyone perceives reality in their own way and ultimately see only what they want to see. With this philosophy in mind, Blow-Up is probably Antonioni's most personal film. Thomas' hollow, self-obsessed world is shattered when he discovers that he may have photographed a murder when casually taking pictures in a park. He encounters a mysterious woman, Jane (Vanessa Redgrave) who demands he hand over the film and when he refuses she appears at his studio, although Thomas never told her his address. When the evidence disappears shortly afterwards, Blow-Up seems to deal in riddles that have no solution. Redgrave re-appears and then vanishes before the photographer's eyes, Thomas returns to the park without his camera and sees the body. The film concludes with Thomas, having discovered the body has disappeared, watching a group of mimes playing tennis without a ball or rackets in the park where the murder may have taken place. It is only in the final scene of the film where the riddle is solved. Thomas throws the imaginary ball back into the court and watches the game resume. The look of realisation on his face is all too apparent as the game CAN BE HEARD taking place out of shot. There is a ball, there are rackets and this is a real game of tennis. What we have seen up until this point is the photographer's perception of reality: the murder, the mysterious woman in the park, the photographic evidence and the body. The following exchange between Hemmings and Redgrave is the key to the film: Thomas: Don't let's spoil everything, we've only just met. Jane: No, we haven't met. You've never seen me.
Cassandra Maples
Super Reviewer
Blow-Up Quotes
There are no approved quotes yet for this movie.
Discussion Forum
Discuss Blow-Up on our Movie forum!