Blue Gate Crossing
(2003)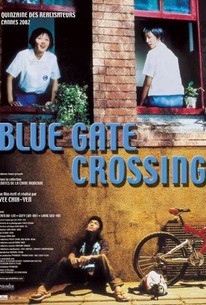 Blue Gate Crossing Photos
Movie Info
Taiwanese filmmaker Yee Chih-yen follows up his debut Lonely Hearts Club with the romantic drama Lanse Da Men (Blue Gate Crossing). Best friends Meng Ke-rou (Guey Lun-mei) and Lin Yueh-chen (Liang Shu-hui) are 17-year-old high school girls. When Yueh-chen admits she likes the boy swimming champ Chang Shih-hao (Chen Bo-lin), she talks Ke-rou into talking to him for her. But Shih-hao ends up liking Ke-rou instead, and the rest of the film develops their sweet friendship and adolescent romance. The only problem is that Ke-rou thinks she might be a lesbian because she's in love with her best friend Yueh-chen.
Rating:
NR
Genre:
, ,
Directed By:
Written By:
In Theaters:
On DVD:
Runtime:
Studio:
Critic Reviews for Blue Gate Crossing
Audience Reviews for Blue Gate Crossing
Blue Gate Crossing is a charming coming-of-age semi-romance that tackles the difficulties of adolescent love with a tenderness and honesty that are rare in Hollywood equivalents. The film features strong leads, a simple story, and beautiful (and catchy) piano accompaniment. Certainly a worthwhile watch.
Clayton Walter
½
Dreamy, Romantic, Tender. OK We've been given those on the poster. They are not ones I would use. Instead I'd go with: Adorable, Sweet, Sensitive, Well-acted, Well-directed, Well-written. It was a [b]joy[/b] to watch this film. It took me a few minutes to warm up to the characters, but only a few. We meet the two girls first, a girly-girl who seems to be in control, and a brooding follower. Not much to go on with that. Girly girl spots sensitive boy and wants him, but insists that brooding girl act as the go-between. The film focuses on the friendship that develops between brooding girl and sensitive boy after that. Brooding girl becomes razor-sharp, adorably mixed up commando teen when paired up with sensitive boy who has fallen in love with her. This film did a remarkable job of capturing teens as they are: insecure and passionate; as easily hurt as they are to fall in love. They provoke each other without knowing why. One of the many highlights of this film is when the boy and girl, when they've run out of verbal ammunition, begin a shoving match. It goes on for some time and then the director simply cuts to a scene of the two of them straightening up their surroundings together. The director makes many decisions like that to keep us focused on the big picture: shit happens, and then something else happens. There's no stopping it. I have to point out that watching this Taiwanese film with English subtitles added quite a bit to the adorableness of it. For example, after brooding girl sets up sensitive boy with girly-girl, who knows he likes brooding girl, (you have to see the film to see how that happens), sensitive boy walks girly-girl home. After an uncomfortably done good-bye, girly-girl calls out after sensitive boy as he's about to mount his bicycle and says: "Zhang Shihao, (pause) can you date with me?" I don't know exactly what was said in Taiwanese, but that odd translation seemed to capture the moment perfectly. I smiled from ear to ear while watching this movie from the time sensitive boy was introduced until the very end. This is an exceptionally well done film, off-the-charts-delightful.
fuck you
A touching movie about teenage love and innocence! Different from typical films of this type, but in a good way. Guey or Kwai Lun-Mei and Wilson Chen are both great in this film. The pacing is a teeny bit slow, but overall I still enjoyed the film.
Claraity .
Blue Gate Crossing Quotes
There are no approved quotes yet for this movie.