Blue Velvet
(1986)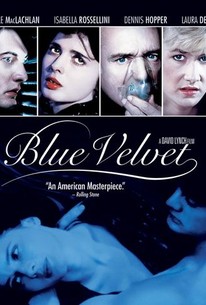 TOMATOMETER
AUDIENCE SCORE
Critic Consensus: If audiences walk away from this subversive, surreal shocker not fully understanding the story, they might also walk away with a deeper perception of the potential of film storytelling.
Movie Info
Director David Lynch crafted this hallucinogenic mystery-thriller that probes beneath the cheerful surface of suburban America to discover sadomasochistic violence, corruption, drug abuse, crime and perversion. Kyle Maclachlan stars as Jeffrey Beaumont, a square-jawed young man who returns to his picture-perfect small town when his father suffers a stroke. Walking through a field near his home, Jeff discovers a severed human ear, which he immediately brings to the police. Their disinterest sparks Jeff's curiosity, and he is soon drawn into a dangerous drama that's being played out by a lounge singer, Dorothy Vallens (Isabella Rossellini) and the ether-addicted Frank Booth (Dennis Hopper). The sociopathic Booth has kidnapped Dorothy's young son and is using the child as a bargaining chip to repeatedly beat, humiliate and rape Dorothy. Though he's drawn to the virginal, wholesome Sandy Williams (Laura Dern), Jeff is also aroused by Dorothy and in trying to aid her, he discovers his dark side. As the film nears its conclusion, our hero learns that many more indivduals are tacitly involved with Frank, including a suave, lip-synching singer, Ben (Dean Stockwell), who is minding the kidnapped boy. Director Lynch explored many similar themes of the "disease" lying just under the surface of the small town, all-American faade in his later television series Twin Peaks (1990-91). ~ Karl Williams, Rovi
Rating:
R (adult situations/language, nudity, violence)
Genre:
,
Directed By:
Written By:
In Theaters:
On DVD:
Runtime:
Studio:
MGM
News & Interviews for Blue Velvet
Critic Reviews for Blue Velvet
Audience Reviews for Blue Velvet
½
A young man from the small town of Lumberton stumbles upon a severed human ear and his curiosity leads him down the rabbit hole of violence and depravity surrounding a mysterious criminal known as Frank. Blue Velvet is David Lynch skilfully subverting the stereotypes of middle America in this reinterpretation of Film Noir transposed to its unseen, dark underbelly. The superficial gloss of the white picket fences and bonhomie of American suburban life disguises a nightmarish underworld of brutal crime and corruption which is discovered by fresh-faced Kyle MacLachlan and all-American high school girl Laura Dern and Lynch delights in peeling back the layers of respectability to expose the horrors the human animal is capable of. Dark, brooding and strange, it's not as oddball as some of his more obtuse work but this is classic Lynch that has obviously had an influence on the work of the Coen brothers. A bit of a cult classic and must see for fans of off beat thrillers in general and David Lynch in particular.
½
Lynchian thrill at its best, this is just one of director David Lynch's heralded magnum opuses. The film has the same overall tone of creepiness, insidious intent, and villainy, on an under your skin level, as many of his other films. Described as a film about the deep recesses of sadomasochism and crime that crawls beneath sugar sweet suburbia, I find it to be much more than that. That description makes it seem that suburbia is placed in the forefront, and all the intermingling characters are outsiders in the world that villain Frank builds around victim Dorothy, when in reality no one in this film is anywhere near normal. College student Jeffery (McLachlan) is based in prep but veers more toward strange voyeur throughout most of the film. He is the main representation of normal in the film, and yet he time and again does strange, daringly stupid things in his quest to help Dorothy. Dorothy is played by Isabella Rossellini in yet another turn as an obsessed, anachronistic character. She plays the victimized mother so well and especially comes off as vulnerable and wronged against Dennis Hopper's Frank. Hopper has always been able to play the misinformed, violent, beyond cruel character so well, and here he is at his peak. Not only does he affront motherhood, family, and the supposedly suburban way of life, but he is also unaffected by death and sexual coercion. I have never seen a grosser, more ambivalent villain in film history, and there is no one else to play this character than the incomparable Hopper. The tension that is built up through this thrilling neo-noir is palpable, only broken when Jeffery goes back into the normalcy that he thought always preceded him, but now is tainted by his knowledge of Frank and the town's seedy underbelly. Besides being bizarre plot wise, and through these dense characters, Lynch also lets the town hang overhead as its own sick and dispassionate witness to everything that happens, not stressing how false its ideals are, but constructs it to mirror two different worlds balanced by naiveté. These kinds of films, strange and non-inclusive, usually generate a lot of negativity, but when you watch it, it is gothic and has a feeling of otherness that cannot be replicated. Lynch's vibe in these films make him the great director that he is, and there is no better example as violence as a mechanism for creepy than this peerless film.
Spencer S.
Super Reviewer
½
David Lynch's first fully realized masterpiece starts off seemingly straight forward and innocent but don't let the introduction fool you. You soon plunge into a strange world of sex, drugs and violence. Featuring a horrific and amazing performance from Dennis Hopper as well as stellar performances from the rest of the cast. This is a must see.
Graham Jones
Super Reviewer
Discussion Forum
Discuss Blue Velvet on our Movie forum!