Blue, White and Perfect
(1942)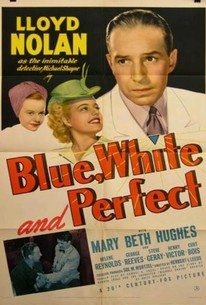 AUDIENCE SCORE
Critic Consensus: No consensus yet.
Blue, White and Perfect Photos
Movie Info
This patriotic detective program revolves around diamonds. They are being smuggled out of the United States for use in the Japanese war effort. An American detective catches on to the scam and foils the spies.
Critic Reviews for Blue, White and Perfect
There are no critic reviews yet for Blue, White and Perfect. Keep checking Rotten Tomatoes for updates!
Audience Reviews for Blue, White and Perfect
The Michael Shayne series was a great gig for Lloyd Nolan as he didn't get to play many leads. "Blue, White, and Perfect" from 1942 is a fun entry into the series, and for us boomers, another chance to see George Reeves without his Superman cape. The film also features Helene Reynolds and Mary Beth Hughes. In this one, Shayne takes a job as a riveter, at first to watch for sabotage, but after a robbery of industrial diamonds, to ferret out the criminal. Actually the job is a great cover as his fiancée, Merle, is pressuring him to get out of the detective business. The trail leads to Hawaii. Since this film was released in January of 1942, it looks like it was filmed before Pearl Harbor, so the placement of the story in Hawaii is interesting, plus the fact that we seem to be on the trail of not Japanese, but Nazis. In order to get money for passage on the ship, Shayne convinces Merle to make a $1000 deposit on a ranch. Clever if low! On the ship, he meets Juan Arturo O'Hara (Reeves) and an old client, Helen Shaw, who now owns a dress shop in Hawaii. It gets pretty dicey from there as someone tries to kill Shayne, by not only shooting, but drowning! Director Herbert Leeds keeps the action going at a snappy pace. Highly entertaining, with a lively performance by Nolan, and a charming one by Reeves (Superman), whose career never regained its momentum after his war service. 4 Stars 1-16-13
Bruce Bruce
Super Reviewer
½
I've now seen all four of the currently released Michael Shayne pictures from the 1940s, and I'm almost completely out of steam to review them. There's not a lot of differentiation because they're b-roll pictures that acted as companions to bigger budgeted main features. Shayne (Lloyd Nolan once again) is now confronted with a girlfriend, Merle Garland (Mary Beth Hughes, returning to the series as a different character), who wishes him to leave the detective business so that she will marry him. Shayne agrees, asking a friend to set him up in the Thomas Aircraft factory, where he masquerades as a riveter, but in fact aims to prevent sabotage (since it's wartime and all). He stumbles across a diamond smuggling plot which leads him to the Daisy Bell dress company, where he meets with Rudolph Hagerman (Henry Victor) as "Colonel Henry Breckenridge Lee, Jr.," a southern salesman. The perp who put him on the trail of the diamonds in the first place happens to catch him, though, so he's left trying to follow the diamonds on a ship, where he meets up with former flame Helen Shaw (Helene Reynolds) and playboy-type Juan Arturo O'Hara (George "Superman" Reeves). Naturally the diamond thieves aim to protect their quarry, but O'Hara seems to know more than he's letting on as well. Much like Sleepers West, I was more entertained by this film than the other two. Nolan continues to shine in his role as Shayne, especially his amusing turn as the disguised Southerner, where he even goes so far as to carry himself differently and avoids really harping on his dialect choice. The best part was doubtless his interaction with the Tobys, who own a store right next to the Daisy Bell company. Mr. (Frank Orth) and Mrs. Toby (Mae Marsh) are left stunned and staring as Shayne wanders in and out of their store, attempting to keep himself below the radar in his investigations--or in attempting to continue his deception of Merle regarding his occupation. Reeves is interesting to see long before his Superman days, and interesting in his role as a whole, with a similarly subdued approach to an accent he doesn't naturally possess. Neither is of course perfectly accurate at it, but it's refreshingly low-key, especially for a film that not a lot of star power or money was dumped into.
R.C. Killian
Blue, White and Perfect Quotes
There are no approved quotes yet for this movie.
Discussion Forum
Discuss Blue, White and Perfect on our Movie forum!