BMX Bandits
(1983)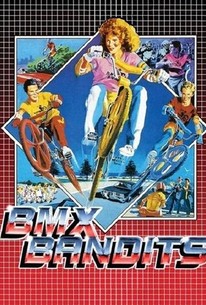 Movie Info
Three BMX-riding Australian teenagers discover a hidden stash of stolen goods and find themselves in trouble with the criminal. This action film uses the teens' efforts to avoid capture as a peg for numerous chase sequences, featuring much stunt BMX riding.
News & Interviews for BMX Bandits
Critic Reviews for BMX Bandits
Audience Reviews for BMX Bandits
BMX Bandits is a mediocre action film that simply fails to really entertain. Directed by director Brian Trenchard-Smith, this is not one of the director's best films. That belongs to Dead-End Drive-In. I was looking forward in seeing this film, and it started off well enough to be an amusing film, however by the end of the film, everything seemed to fall apart. Smith is a good director, however here makes a film that just doesn't deliver anything truly memorable. The film ends up being quite silly and has that strong 80's vibe to it. By today's standards, it looks quite dated. If you love low budget action films that are quite cheesy, then this is a film for you. This is a film that should have been much better, and it have an interesting idea, but it just ended up being wasted due to a lacking script and bland performances from its cast. The film's biggest problem is that it ends up being all over the place, and it tries to pack way too much content in its short run time. The chase scenes were well executed, but the storyline suffered and I think that if Trenchard-Smith would have focused more on the plot as well as the action, then BMX Bandits would have been a standout cult film. As it is, this isn't his strongest piece of work. I've seen worst films than this, but nonetheless this is a mediocre affair that doesn't demand multiple viewings. Smith has made better movies during his career, even if the film isn't that good, the BMX chases are cool to watch and it's the film's saving grace from being an absolute train wreck of a film.
½
Pretty bad little Aussie teen film. It's one long chase, with a bad ending.
Another 80's Cult Classic.
Sean Gillespie
Super Reviewer
BMX Bandits Quotes
There are no approved quotes yet for this movie.