Bobby Fischer Against The World
(2011)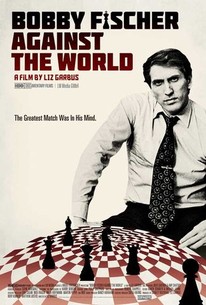 Bobby Fischer Against The World Videos
Bobby Fischer Against The World Photos
Movie Info
Considered by many to be the greatest chess player to ever live, Bobby Fischer Against the World is the first and definitive documentary biography of the eccentric genius who rose from humble beginnings and captivated a world audience with his victory over Russia's Boris Spassky at the height of the Cold War. His trajectory propelled him from child prodigy to US champion at age 15 and world champion at 29. Quixotically refusing to defend his championship, Fischer became a virtual recluse for decades before resurfacing for a bizarre final chapter as a fugitive from US justice. Rare archival footage and insightful interviews with those closest to him expand this captivating story of a mastermind's tumultuous rise -- and fall. --(c)Music Box Films
Rating:
PG
Genre:
, ,
Directed By:
In Theaters:
On DVD:
Runtime:
Studio:
Critic Reviews for Bobby Fischer Against The World
Audience Reviews for Bobby Fischer Against The World
½
Tackles the iconoclastic nature of its subject both personally and professionally, making a persuasive, emotionally involving case for the dark, troubled flipside of genius.
Lee Mayo
This is a great documentary regarding Bobby Fischer although I must admit, I do not understand the obsession with this guy. Could it be that I am not a major Chess fanatic? This film leaves you wondering why would somebody so eccentric and so-unbalanced as this chess player - with many diagnosed and diagnosed (yet untreated tics/idiosyncrasies) turn Anti-Semitic and paranoid? Well - the same reason the average nutcase who doesn't happened to be a world champion chess player does - because . . . they are CRAZY. Given the history of grand master chess players - the better you get at chess - the closer you get to paranoid schizo - at least that's what I learned from this film.
Steve Thomas
½
When I was in college, I would occasionally play a friend in chess. And he admitted he had a hard time playing me, because of my strategy. I didn't have one, so he could not see ahead what I was going to do. Luckily, the documentary "Bobby Fischer Against the World" has a lot to say on the subject of chess strategy, so I was able to learn a thing or two for possible future reference. At the top of the chess pantheon was Bobby Fischer, chessmaster and one time world champion, who was able to play entire games in his head and could outplay almost any other opponent. Sadly, that also included himself, as that same monomania which made him so successful at chess, made him that much less successful as a human being.(There is an intriguing chicken vs. egg debate here concerning his mental illness.) Later in life and post fame, he retains his intelligence to antagonize everybody he encounters with his own brand of twisted and bigoted logic while losing his mind. Centered as the documentay is around the 1972 Chess World Championship versus Boris Spassky, who is still very much alive, oh by the way, Cold War politics come into play.(This chess match was apparently a very huge deal. I love the newscasts of the day that would go - "Watergate...McGovern...but first chess...) But to counter something said in the film, yes, the Soviet state supported its athletes, but they were not professional in the way we think of them today. Rather, they were probably allowed to live in a pretty nice apartment and did not have to stand on line for food.
Bobby Fischer Against The World Quotes
There are no approved quotes yet for this movie.